Kristen Anthony
Landscape Architecture student, and SU competitive skier

Posted January 2009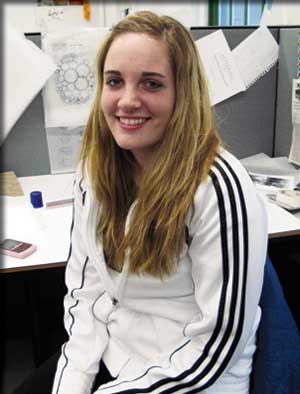 If you tell Kristen Anthony that her career at ESF is going downhill, she'll probably take it as a compliment. Anthony, a sophomore landscape architecture major, is a member of the ski club at Syracuse University.
The chance to ski competitively was one reason Anthony was drawn to ESF.
"I knew about the ski team before I came here and wanted to join," she said. This is her second year on the team. A native of Saratoga Springs, she has skied since she was two years old and skied competitively on her high school team and the ski team at Gore Mountain.
The ski team at SU is a club sport which is open to ESF students. Because of a longstanding relationship with Syracuse University, students can join any of the 300 extracurricular SU clubs or activities. This arrangement allows ESF students to experience both the closeness of a small, specialized college while enjoying the benefits of a large university. The ESF/SU relationship provides students with a complete menu of activities and sports to choose from. Although ESF students can't participate in SU's Division I NCAA sports, that doesn't stop them from taking advantage of the numerous opportunities offered across the way.
Anthony practices with the team twice a week at Toggenburg Mountain in Fabius, approximately 30 minutes south of campus.
The team competes on the weekends, dividing into two groups. One group competes at Toggenburg while the second group travels to a rival college's "home mountain." The team competes against skiers from Cornell, Colgate and the University of Rochester.
Each member has two competitive runs per meet in the slalom and giant slalom. Both events involve skiing between sets of poles or gates. Gates in the giant slalom are spaced at a greater distance than in the slalom. In alpine skiing, the slaloms are considered technical events with the best times winning.
Along with getting to compete on a weekly basis, Anthony noted other advantages to being on the ski team. "Not only do I get to meet a lot of people, but I've met people that I've been racing against my whole life but never actually talked to before."
Being on the ski team also gives Anthony an added ring to her social circle. "I have friends within my major," she said, "and also my SU friends which is cool."
When balancing her time on the slopes with her time in the classroom, Anthony has a small advantage: her father, Jeff Anthony, is an alumnus of the landscape architecture program, and is always available to provide advice. Coming to ESF, she said, "is sort of in the family thing."
"He also comes back and gives lectures to the freshmen every year," she said. "It was kind of odd sitting in his lecture last year."
ESF Students Make their Mark