Michael Amadori
Aquaponics Research

Posted January 2013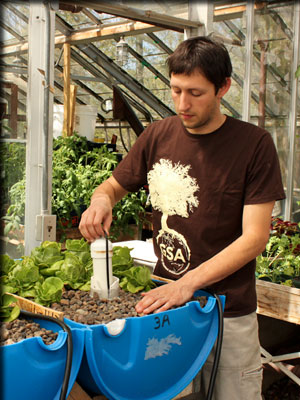 What if today's leftover cheeseburger could be used to feed the fish you might eat next week?
ESF graduate student Michael Amadori is working on a project that uses food waste to raise fish and then uses the fish waste to nourish a crop of lettuce.
"The idea is that you're taking post-consumer food waste which, right now at best, you can compost," said Amadori, a master's student in ecological engineering. "And you are growing fish, then you're taking fish waste and you're growing lettuce. You can bypass the composting process completely."
This first-of-its-kind experiment in urban food production could result in a way to reduce the amount of food that enters the waste stream while also devising a way to significantly lower the cost of growing fish commercially.
Aquaponics - a practice that combines traditional aquaculture (the raising of fish) with hydroponics (growing vegetables without soil) - is not a new endeavor. But Amadori said this is the first time anyone has experimented with using post-consumer food waste to feed the fish.
"The whole idea with aquaponics is sustainability," he said. "You can grow fresh food in non-traditional areas, such as college campuses and the urban environment."
Amadori's system could be scaled up for use in small communities that have suffered economic hardship from the loss of manufacturing jobs.
"You're able to produce a large amount of fruits and vegetables and a protein source in a small amount of area. So it's closer to the customers, so we're going to be closer to the restaurants, to the residents who live there. You can have a farm stand right out in front in the middle of an urban area. And especially in lower-income neighborhoods where a lot of times they don't have access to fresh vegetables," said Amadori.
Amadori plans to perform an economic analysis on the process, comparing the cost of making the fish feed and looking at the growth rates of the fish that ate the different types of feed.
Amadori's experiment is set up in a greenhouse on the ESF campus. Six 55-gallon plastic barrels serve as tanks that each hold 20 young tilapia. Alterations to the greenhouse were needed to accommodate Amadori's equipment. "The school has been extremely supportive of my project from acquiring greenhouse space, to repairs of the greenhouse, and to making sure everything is running properly," he said.
In the early weeks of Amadori's work, the 120 fish together weighed less than a pound. When his experiment is complete in approximately a year, he expects them to attain commercial weight of one pound each. The food waste is obtained from a dining center at neighboring Syracuse University.
"It's what's left on people's plates," he said. "Or it's left on the grill at the end of the day."
Amadori said ESF offered him a close connection with experts in environmental fields and an opportunity to look at problems from new angles. "I choose ESF because of how dedicated the school is to helping protect the environment and come up with new ways to solve problems facing society," he said.
The College's size also appealed to him. "ESF is unique because of its small student population yet it offers graduate degree programs," he said. He credits the College's close-knit community with giving him several opportunities to meet with ESF President Cornelius B. "Neil" Murphy, Jr.
"Being able to sit down and talk with the president and present him my ideas and have him fund my project has been extraordinary," he said. "On a personal level I am able to know Neil and other members of the ESF community. That only comes from the small school atmosphere."
ESF Students Make their Mark