Daniele Baker
SUNY Chancellor's Award for Student Excellence Recipient

Posted March 2008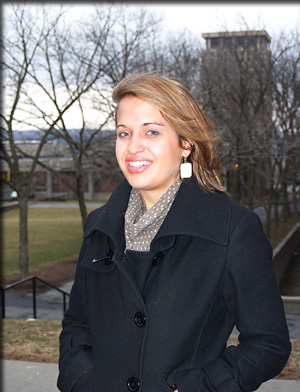 Receiving the SUNY Chancellor's Award for Student Excellence is one of many accomplishments Daniele Baker's many accomplishments during her four years at ESF.
Chancellor's Award honorees excel both in academic achievement and in at least one of the following areas: leadership, athletics, community service, creative and performing arts, or career achievement. Baker excels in many of these areas.
When she graduates in May, she will have built an impressive resume. Since arriving at ESF in 2004, she has worked with a variety of researchers, accumulating an array of real-world experiences.
Baker is an environmental and forest biology major studying how nutrients cycle through the food web, but her fieldwork has taken her beyond her area of study.
When she was a freshman, Baker's advisor, Dr. Donald Leopold, had a job opening in his plant ecology lab. Baker got the job and analyzed soil and leaf material to qualify changes of nutrients through soil and shrub willow.
"The goal is to figure out what is the optimal amount of each type of organic matter and fertilizer that should be applied to increase yield and decrease waste/pollution," said Baker.
Her work was connected to ESF's willow biomass project, which is receiving national attention as a form of renewable alternative energy.
Baker worked for the Student Conservation Association as a historic interpreter at Grey Towers, the ancestral home of Gifford Pinchot, first chief of the U.S. Forest Service and twice governor of Pennsylvania. Among her duties, Baker spent the summer conducting historical tours of the building and grounds along with researching the building's history.
She has worked with Dr. Gregory Boyer of the Department of Chemistry on toxic algal blooms. Boyer does regular sampling on lakes Erie, Ontario, Champlain, and Onondaga. The samples are analyzed by several methods to determine and quantify the presence of the toxin associated with cyanobacteria. Baker assisted with such analysis along with other laboratory procedures.
"I'm also quite organized and I often get volunteered to organize the data, the information regarding the samples, the freezers and anything else that is slowing down work in the lab," Baker said.
When she began planning her honors thesis with Dr. Myron Mitchell in biogeochemistry, Baker said, "When I was looking for a thesis I met with UFI (Upstate Freshwater Institute). Now I'm working at UFI for my thesis and hopefully will get published."
Baker is cleaning up data collected from UFI's near real-time buoys in Onondaga Lake where she removes any errors caused by equipment malfunctions. The data is then made available for public use.
"Modeling takes mathematical relationships and relates them to each other," Baker said. "You can then change variables to see what will happen say if you reduce pollution. You can ask, 'What would have the most benefits?' and go through and see what works best."
All her research experience is having a payoff already. "It really impresses the graduate schools,," she said.
Beyond impressing grad schools, her experiences have lead her to self discovery.
"I've gotten a feel for what works best in managing my own research, which will be easily applicable to everything else I do in my career," she said. "I've learned how important it is to be organized and keep careful notes, use the appropriate laboratory procedures and why you should be humble and treat the glassware washer well."
"I think a lot of students make the mistake of not talking to professors about available positions. Once you get the positions, you get the experience," she said. "The professors are the best resource. They make it so much easier"
In between her field assignments, Baker has found time to get involved in other aspects of life at ESF. She is president of the Baobob Society, the College's multicultural club, whose aim is to promote diversity of people's cultures, religions and lifestyles.
"We're trying to reach out to all students by holding events where you can experience different cultures. Not lectures. More of a 'come and experience it yourself' atmosphere."
Baker also serves as an orientation leader and mentor and is the student representative to ESF's Board of Trustees, where she gives her input and a student perspective on numerous issues facing the College community.
"As an orientation leader I tell students to talk to their professors. You'll always need a recommendation and it's hard to ask for one from someone who doesn't know you."
"With mentoring I trying to help freshmen think things out and plan ahead," Baker said. As a mentor, Baker coordinates activities for a small group of freshmen. They may go out for an evening, get together for dinner or just talk about challenges the new students face.
"The one thing I'm sure to tell them is, 'Go to class.' It makes things a lot easier."
ESF Students Make their Mark