Khristopher Dodson
Publisher of Envi magazine

Posted November 2007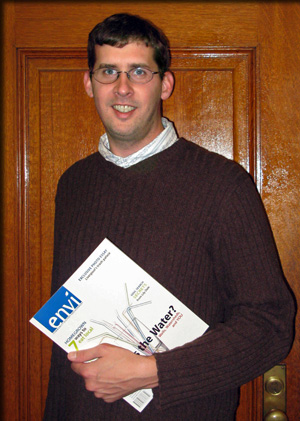 Any aspiring environmental writer would look at Khristopher Dodson's accomplishments and be green with envy, or, in this case, Envi, the environmental magazine he publishes.
Dodson is working on his master of professional studies degree at ESF along with a concurrent degree from the Newhouse School of Public Communications at Syracuse University in magazine, newspaper and online journalism.
Part of the coursework in his advanced news writing and reporting class required writing and publishing an article. Given his ESF connection, Dodson chose the environmental beat and had two articles published in the Eagle newspapers, a chain of weekly papers in the Syracuse suburbs.
He discussed the assignment with writing instructor Bennette Whitmore and Associate Professor Patrick Lawler of ESF's Department of Environmental Studies.
"We wished there was a local environmental publication," he said, "so I began working to develop one."
Dodson entered the Panasci Business Plan Competition at SU's Whitman School of Management and completed an independent study at Newhouse to develop a business plan. He did a summer internship to seek funding for the magazine, and also received a Sussman Foundation grant. The Sussman grants support internships for graduate students at eight universities across the United States, including ESF. Dodson then developed the relationships and sponsorships possible to bring Envi to fruition.
The first issue, published online and in print, hit newsstands in July/August 2007. Dodson is working on the next issue.
"A lot of people want subscriptions," he said. "Right now we need the sponsorships, advertisers and seed money to make it sustainable."
"Envi isn't a doom-and-gloom environmental magazine. It's not, 'Oh God, here we go, the world's ending.' That's not the persona we wanted Envi to have," Dodson said.
He knows that Central New York has a number of environmental positives: the Center of Excellence in Environmental and Energy Systems, private groups that are working on environmental issues, and many businesses that are going green. Dodson wants to call attention to all these things.
"I want to engage people and show them the great things going on and the steps to help the environment," he said.
Dodson also hopes to bring in readers outside traditional environmental circles. "I want to reach people who don't know about the things that are being done. I don't want to preach to the choir."
For the first issue, the work was done by students, including the design, photos, writing and Web page. Dodson said he has a mix of students and freelancers interested in working on the next issue.
Dodson came to ESF after earning a bachelor's degree in environmental studies and English/rhetoric from SUNY Binghamton in 2004. He spent a year doing nature education before deciding to continue on to grad school.
ESF's focused curriculum appealed to Dodson. "The College is unique in that even though it's small, it's all dedicated to environmental things."
"ESF was the only place I applied to. It was a Zen approach: If I didn't get in, I wasn't meant to go back to grad school," he said.
With his acceptance to ESF, Dodson also explored educational opportunities at neighboring Syracuse University. "When I realized I could take concurrent degree programs I knew it would be foolish not to take the opportunity. It's such an economic value."
ESF Students Make their Mark