Brendan-Michael Galloway
Greater Research Opportunities Fellowship

Posted November 2011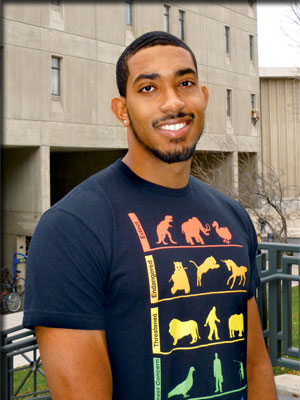 For Brendan-Michael Galloway building and maintaining captive aquacultures lead to the fellowship that is paying for his ESF education.
Galloway, a junior in the environmental studies program, received the Greater Research Opportunities Fellowship from the U.S. Environmental Protection Agency (EPA). This highly competitive fellowship is awarded to only 40 students nationally each year. The fellowship covers tuition and living expenses for two full years and involves a paid summer placement at an EPA research office.
"I'm honored and delighted to be able to help my family with the costs of college," Galloway said.
Galloway's path to the EPA fellowship began with an early passion for aquariums. He kept fish and reptile habitats in his home in North Bethesda, Md., at first but "they became too easy to maintain," he said. He moved on to the challenge of growing coral environments. "It couldn't get any harder than trying to grow coral in a glass box and recreating a miniature ecosystem," he said.
Keeping fish and plants alive and well in aquariums isn't easy, especially when it comes to salt water aquariums, which can be sensitive to disruption.
"As hobbies go," said Dr. Sharon Moran of the Department of Environmental Studies, "aquariums are great training for someone trying to make better policy for ecosystem management. The ones we build in our living rooms don't face real world challenges like overfishing, coral bleaching, extinction and sovereignty issues." Moran, who has taught Galloway in class, assisted him with the fellowship application.
Prior to coming to ESF, Galloway completed two internships that focused on coral reefs and the environmental problems facing these delicate ecosystems.
Coral bleaching was the focus of his internship in the Seychelles Islands, located off the eastern coast of Africa. For four months he studied post-El Nino bleaching events. Bleaching events occur in extreme weather, he explained. With large swings in the temperature the coral expels symbiotic algae "like trees dropping leaves" which makes the coral more susceptible to other stressors. The coral, he explained, needs the algae to conduct photosynthesis.
After the internship, Galloway realized, "The science is great, but it wouldn't go anywhere without rules, regulations and policies to protect the coral."
This lead to an internship at the Marine Conservation Ocean Conservancy in Washington, D.C., where he worked on critical habitat designation. "I realized this is what I'm interested in," he said. "I like to help the environment, do something good and get paid for it."
An environmental policy major, Galloway is focusing on aquatic habitats. Said Moran, "Brendan's always ready to jump in and debate an issue, and that's an important skill for people in the policy arena." Over the summer, Galloway worked as an intern at the World Wildlife Federation in Washington, D.C., examining policies on coral reef protection internationally.
ESF's environmental focus drew Galloway to the College. He was also impressed with range of experience that ESF students have.
"You talk with one person and they've worked with lions in Africa and another's testing toxins in Australia.
"Everyone is doing something interesting and everybody's driven to try and help the environment," he said.
ESF Students Make their Mark