Ryan Henry
SU's biggest sports fan.

Posted January 2013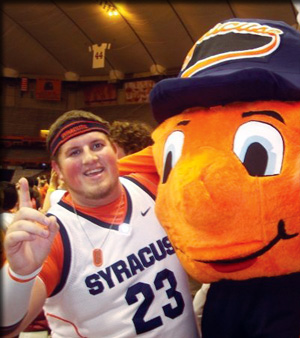 The orange shirt and shorts, the Syracuse University basketball jersey (white, for the home team), the blue-and-orange sneakers, the wristbands and headbands must be donned in a certain order.
The Carrier Dome must be entered through a certain door. Certain hands must be high-fived. Former SU lacrosse superstar Mike Powell's picture must be viewed.
A certain seat must be occupied, with certain "crew" members nearby.
Only then is Ryan Henry is ready for action.
"My clothes are the same for each game," Henry said. "My spirit is the same. My dances are really good."
Henry, a junior landscape architecture major at ESF, has become a familiar face to SU basketball fans, both those courtside in the Carrier Dome and those at home watching on TV. His unrestrained love for sports and undying enthusiasm for Orange basketball helped him win the title of SU's biggest sports fan during the university's winter carnival. He shares the title with a friend who is an SU student.
Henry's friendly face is often highlighted during television coverage as he and his friends dance their way, in choreographed movements, through timeouts.
"They just put me on because I'm going crazy," he said.
enry brought along a lifelong love of sports when he arrived at ESF as a freshman from Augusta, Maine. He found the combination of SU's NCAA Division I athletics and his access to a seat in the frenzied atmosphere of the Carrier Dome's student section was the perfect complement to his desire to study landscape architecture in the supportive atmosphere of a small college.
"I've always been a big fan of sports in general. Then coming to ESF and having SU right next door was a dream come true, sort of, because I could express my love for sports in a big-school way and still have the tight-knit, small-school community that ESF has."
Henry found support in the small orientation group to which he was assigned his first day at ESF.
"If I hadn't had the small-group atmosphere, I would have been done. I was so homesick that first day, I wanted to turn around and go right back to Maine. But because I had that small group, it made things a lot easier."
Henry later became an ESF orientation leader and then a resident adviser in SU's Flint Hall.
Most of the time, his schedule allows him to be in his regular seat for basketball games. He also attends football, field hockey, men's and women's lacrosse, and women's ice hockey games. Members of the softball team have invited him to attend their games when the season begins.
He has already figured out that spending a semester off campus, which is part of the fifth-year program for LA students, will allow him to return to Syracuse in time for the excitement of the Big East basketball season in 2011.
"I think I'm a lifelong SU fan now," he said.
ESF Students Make their Mark