Meghan Johnstone
Traveler in Australia, Nature Conservancy Intern

Posted January 2013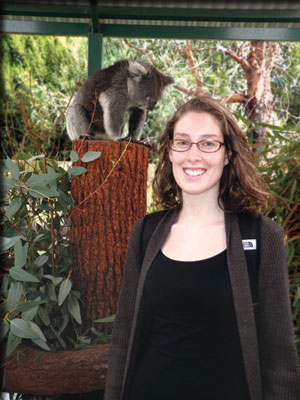 Studying abroad was one of the things Meghan Johnstone '10 wanted to accomplish before she graduated from ESF.
Given the rigor and focus of ESF's academic programs, however, it required some detail-oriented planning for Johnstone to achieve her goal. She managed it through careful scheduling that allowed her to save her elective classes until her senior year.
For her semester abroad, Johnstone chose the University of Western Australia in Perth, where she studied anthropology through SUNY Brockport. In addition to her studies, she and some friends found time for a weeklong road trip up the west coast to Shark Bay, a UNESCO World Heritage site known for its sea-grass beds, sea cow population and unique algae colonies.
"We rented a camper van, slept by beaches and went surfing in the morning," she said.
A senior environmental studies major from Saranac Lake, N.Y., Johnstone said her academic path began in her outdoorsy hometown, which is tucked between Tupper Lake and Lake Placid in the Adirondacks.
"I was influenced to study the environmental field because my family owns an eco-friendly store in my hometown," she said. "I became a consultant, you could say, helping pick out new green and fair-trade products."
Through contacts she made in her ESF academic department Ñ where she chose the communication, culture and writing option - and her work-study job in the Career Services Office, Johnstone got a summer internship with the Nature Conservancy, working on stewardship and communication in the Adirondacks. "I was lucky to find an internship at the Nature Conservancy because I could commute from home and get paid for my work," she said.
"I didn't expect to get the job when I applied and it is the most valuable experience I've gotten because of ESF," she said. "I enjoyed doing the design, press release, and outreach work most while at the Nature Conservancy. I got to apply my major and do field experience with invasive plants, philanthropy and biological assessments. My course work at ESF really prepared me for the work I did that summer."
After she completes her bachelor's degree, Johnstone plans to continue working with the Nature Conservancy in Portland, Ore., doing communication and community outreach, and traveling.
ESF Students Make their Mark