Irony Sade
Biotechnology Major

Posted June 2007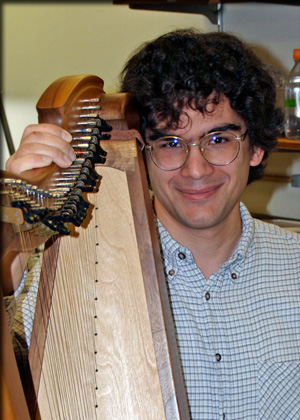 The sound of a Celtic harp seems foreign in a lab full of humming fans, whirling DNA sequencers and buzzing lights until you meet the man behind the music. Then the seamless blending of the sounds of science and music make perfect sense.
As described by his former advisor Dr. Lawrence Smart, Irony Sade is "a Renaissance man" with varied interests and passions - ranging from music to medicine.
A biotechnology major who completed his BS degree this spring, Sade will attend SUNY Upstate Medical University this August to earn his medical degree. Because a previous bachelor's degree in ethics didn't meet premed requirements Sade chose ESF to complete his premed requirements.
"Through ESF's biotechnology program I could study all across the different sciences. It's is the most flexible for someone who wants to take a lot of science," said Sade.
Sade decided to pursue medicine while in Tonga with the Peace Corps. In Tonga his knowledge of basic medicine earned him the unofficial role of village doctor. "This is where I conceived the notion to be a doctor," he said.
When he returned to the States, he decided to spend one year working as a nurse to "see if I could stand being a doctor." He entered nursing school in 2002 and subsequently became a nurse at Community General Hospital. Sade entered ESF in 2004.
Sade went to Tonga to serve as a business advisor and teach carpentry. The later skill he's used to build his own Celtic harps.
He built his first wire-string harp in 2002 after learning the history of the centuries-old instrument that was all but extinct. Once an instrument common among the bards of Ireland, it died out in the 1500s when Queen Elizabeth outlawed Gaelic. The instrument has enjoyed a renaissance of its own as musicians like Sade have built their own harps and tracked down the folk music of Ireland.
He and his brother, Omen, released a CD of harp and flute music "Rising Sea," in 2004. The entirely acoustic recording features music from Ireland, Scotland, England, Iceland and two pieces written by Sade during his time in the South Pacific.
When building his harps, he drew on his years spent working as a carpenter and contractor to choose the appropriate wood, one that was strong yet had some give. His first harp's soundboard was made of spruce but after two years in the tropics with the Peace Corps he needed to build a new one and used laminated craft birch which is a stronger wood.
While in Tonga he also collected songs and tales of the South Pacific which he has performed and told as a professional storyteller. Sade has also written stories based on life in the South Pacific and his own experiences.
Sade connects his scientific studies to music when he talks about the environment, drawing a parallel between ecosystems and an orchestra. Different species are similar to different parts of an orchestra, he said, and as a species comes and goes so do different instruments playing in an orchestra. "There is no rigid statis in ecology, just as there is none in music. Something comes in then something else comes in. You never have a static point."
"He's very interested in the health of society as a whole, in particular those who are less able to fend for themselves," said Smart. Sade has served as a patient advocate at Community General.
"He's extremely bright," said Smart, who marveled at how much Sade packed into his schedule between wife and teenage daughter, his studies, his work at Community General, and his music.
Sade explains it simply, "You may have noticed I can't ever do just one thing."
ESF Students Make their Mark