Cara Stafford
Invasive Plant Technician, Catalina Island

Posted July 2007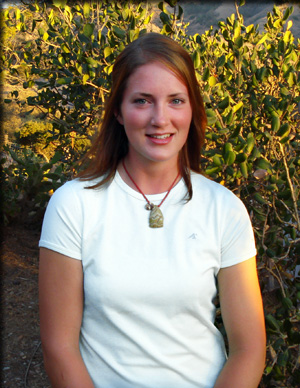 Cara Stafford (Conservation Biology, 2007) became interested in invasive species during a summer internship while she was at ESF. Today she's an invasive plant technician on Catalina Island.
Before her senior year, Stafford completed a 12-week internship in the Sierra Nevada Mountains. The Student Conservation Association summer internship at Kings Canyon National Park gave her first-hand experience working with invasive plants.
"I basically pulled weeds," Stafford said, " but I preferred the more official title of National Park Service Vegetation Management Crew member." Each day, Stafford and her crew looked for bull thistle, woolly mullein and other invasive plants and removed them from the park.
There were days she tired of looking for plants eight hours a day, but she felt privileged to hike in areas of the park visitors rarely saw and her days were anything but average.
"I hiked up and down steep slopes in remote areas, encountered rattlesnakes and bears, crossed beautiful rivers and discovered many new plants," she said.
Her internship also allowed her to use her downtime to pursue interests in hiking and rock climbing, and exploring California. "I don't feel quite so sheltered anymore, plus I have a new favorite place in the world (the Sierra Nevada Mountains)."
She credits her advisor, Dr. Donald Leopold, for emphasizing the importance of internships. "From day one he stressed the importance of internships and now I know I couldn't have made a better decision to pursue one."
The internship led her first to an ESF course in invasive species, and ultimately to a job with the Catalina Island Conservancy. Stafford and her colleagues work on Catalina Island, off the coast of Southern California, identifying and removing non-native invasive plant species to preserve the island's native, often endemic flora.
"This conservation program is at a stage where progress is becoming visible, and it is rewarding to know that a small group of people can make such a difference" she said. "I like this job because it's giving me an opportunity to experience a beautiful Channel Island, and I am learning about different plant communities, like coastal sage scrub and island chaparral."
Stafford sees the position as a stepping stone to graduate school. "I'd like to broaden my field skills a little bit and apply what I learned at ESF to make myself a better candidate for graduate school," she said.
Stafford began laying the groundwork for grad school while at ESF by taking advantage of the opportunities to travel and learn. During spring break of her senior year she traveled to Dominica to work on an individual research project. She made the trip with other environmental and forest biology students, and Drs. Donald Stewart and Allan Drew. "The whole experience was eye opening. I saw so many things for the first time - a boiling lake, tropical and dry rainforest, and there were so many plants and trees to learn. It was overwhelming."
"As my professors have advised me, if you're going to work in a conservation program you should see a rainforest as soon as possible," she said.
ESF Students Make their Mark