ESF Grad Student Awarded Rare Book School Scholarship
Program delves into history of hand papermaking

Posted March 2015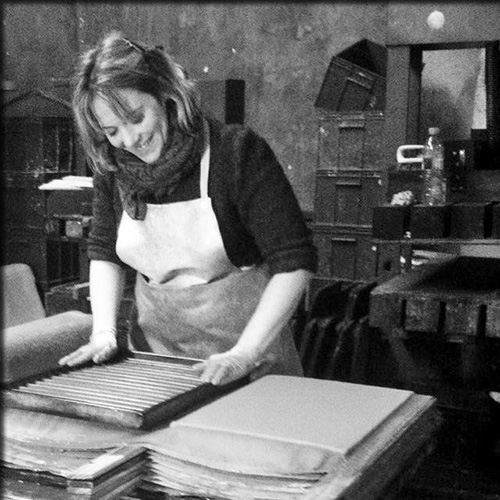 It would be difficult to find someone more enthusiastic about the art called "hand papermaking," or the paper industry itself, than graduate student Genevieve Nordmark.
Whether she's talking about her studies in hand-papermaking, her recently awarded scholarship to the Rare Book School or the paper industry in general, the words burst forth like confetti shot from a cannon.
Nordmark, a graduate student in ESF's Department of Paper and Bioprocess Engineering, won a scholarship to the Rare Book School based at the University of Virginia. She is among a dozen students nationwide to win the 2014 Fath Scholarship for Artist and Artisans of the Book.
She has applied to take the History of European and American Paper Making. "It's taught by Timothy Barrett and John Bidwell. In the world of handmade paper making, Barrett's a big name." Barrett and his team fabricated the handmade archival paper that was used to re-house the Declaration of Independence, the Bill of Rights and the Constitution as part of the "Charters of Freedom Re-encasement Project. Bidwell is a paper historian and I'm looking forward to learning from both of these men."
The Rare Book School "provides continuing-education opportunities for students from all disciplines and levels to study the history of written, printed and digital materials with leading scholars and professionals in the field," according to the school's website.
Nordmark will attend the school at the end of June. "The scholarship is specifically for people who engage in hands-on work with printed artifacts," she said. "The course will help round out my degree, making me better versed in the history of paper making."
Nordmark discovered hand papermaking in her second-to-last undergraduate semester at ESF as an environmental studies major. "The paper department agreed to take me on," she said. She studies the traditional paper science curriculum, but is also taking printmaking courses and exploring the history of papermaking on her own through the ESF archives.
"We have an amazing collection of papermaking materials in the Moon Library archives," she said.
Her enthusiasm for the archives is just a portion of what she feels for the PBE program. "In the year and half I've been in PBE, I've been really proud to be part of the department," she said. "It's so diverse with people from all over the world. I wish people would know more about us."
It was the paper industry's sustainability and that drew Nordmark to the program. "Paper itself is a material," she said. "You can take a material in one state and make it into something in another state that's incredibly useful: packaging, sanitary grade, writing materials. It's ubiquitous."
"I think my background set me up in career for paper," she noted. Nordmark started in the college's Department of Environmental and Forest Biology, where she learned about plants and ecology. She worked on the Newcomb Campus, went to the Cranberry Lake Biological Station and an ESF trip to Russia. She decided to switch to environmental studies because she was interested in studying environmental greenwashing claims, environmental communication, decision making, and attitudes and values around environmental claims. "It set me up to question sustainability claims and what it means to be 'green,'" she said.
"I feel that background allowed me to look at sustainability avenues that are in the paper industry and be able to communicate them better."
As part of her program, Nordmark needed a co-op experience in the paper industry. For this, she worked with a master papermaker in Buenos Aires, Argentina, for two months. The summer before that, she worked for a hand-papermaking mill in Minneapolis.
Nordmark's plans post-ESF are fairly fluid as there are a number of options to chose from, including making paper for book conservators, book artists, or even supplying paper to such paper-dependent businesses as the wedding industry.
"I've designed different business plans through coursework at Whitman at Syracuse University. One deals with high-end packaging, another is a work-readiness program where people with disabilities can come and make paper products." Prior to coming to ESF, Nordmark spent 10 years doing vocational counseling. "I'm also interviewing for jobs in the paper industry," she said.
Nordmark is also a writer with her own blog, The Fiber Wire, where she talks about paper art and the paper industry. "I've been developing my skills in that arena," she said; she has been doing freelance writing about paper for magazines and other blogs.
"Science communication is really vital," she said. "There are people who do the science and people who communicate the science and I think the best communicators of science are the people who do the science. I think that my training in environmental studies has helped me be able to communicate in a way that is accessible."
ESF Students Make their Mark