'Great Experience' Takes Grad Student to Bulgaria
MLA student spends summer monitoring primitive horse population

Posted October 2015
Copyright © All Rights Reserved by copyright holder
ESF graduate student Rachelle McKnight spent the summer of 2015 living in the tiny Bulgarian town of Nanovitsa, hiking about four hours a day through the Eastern Rhodope mountains and monitoring a small herd of friendly de-domesticated horses that were curious enough about humans to break into her tent.
She described her job placement in brief terms: "I got lucky."
McKnight, a third-year graduate student working on her master's of landscape architecture degree, grew up with horses in Kentucky so when she got a chance to spend the summer researching the habitat use of a herd of primitive konik horses, she couldn't pass it up.
Her work took her to the remote Boynik ridge in a mountainous area near the Turkish border. "It was a great experience," she said. "It was a very intense experience. I've traveled extensively and these were some of the most challenging circumstances I've been in."
While the local people were welcoming, she said, they speak a Turkish-influenced version of Bulgarian and use the Cyrillic alphabet so communication was limited to improvised sign language. Transportation was challenging as Bulgaria does not have an infrastructure for tourism.
McKnight's job was to conduct a home range and habitat survey for Rewilding Europe, an initiative that focuses on making Europe a wilder place with more space for wildlife, wilderness and wild values. Rewilding Europe is an initiative by WWF-Netherlands, ARK Foundation, Wild Wonders of Europe and Conservation Capital. Her project focused on an introduced herd of small, sturdy konik horses. The species is similar to the horses that inhabited the region before humans arrived. Now, as people abandon farms and rural areas as they relocate to cities in search of employment, Rewilding Europe focuses on introducing native animal species to the area to help restore the landscape to its natural state.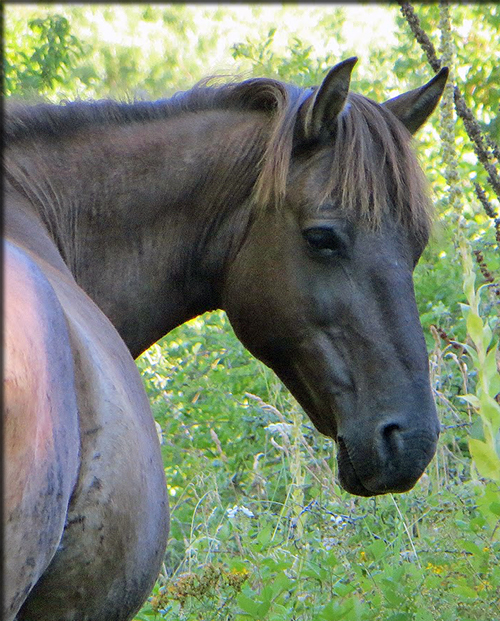 "That's a difference from the way it's done in the United States," McKnight said. "In the U.S., they restore the landscape and hope the animals will come. In Europe, they introduce the animals and allow the natural grazing patterns to re-create the natural ecosystem."
She started her work by analyzing data collected through a GPS unit that tracked the movements of a lead mare that had been collared. Once she determined the herd's movement over the previous year, she hiked out and inventoried the plants in the areas the horses visited most frequently. The plan is for another researcher to retrace her footsteps in five years and see how the horses have affected the vegetation. Back now in Syracuse, McKnight is still working on overlaying satellite imagery of the area with land-cover maps to complete the project.
Her long-term career focus is on habitat connectivity and ecological restoration; specifically, working to create protected areas between existing pockets of habitat so animals can move safely from one to the other.
McKnight arrived at ESF as a graduate student after earning her bachelor's degree in anthropology and a minor in horticulture and art, and then spending several years in New York City working as a scenic artist and art department staff assistant on film, television and theater projects. Given the unique challenges of the art world, she decided to continue her education.
"Landscape architecture is just a perfect fit for my background because it's a mix of design and ecology," she said.
After two years at ESF, McKnight took on the konik horse project with support from the college's Fink Career Fellowship, a travel grant from the Office of Instruction and Graduate Studies and the Charles Lathrop Pack Fund. "I would never have been able to do it without that support," she said.
ESF Students Make their Mark