Honors Student Works with 'Best Thing Ever': Elephants
Travel takes Yvonne Lim to Elephant Nature Park in Thailand

Posted March 2016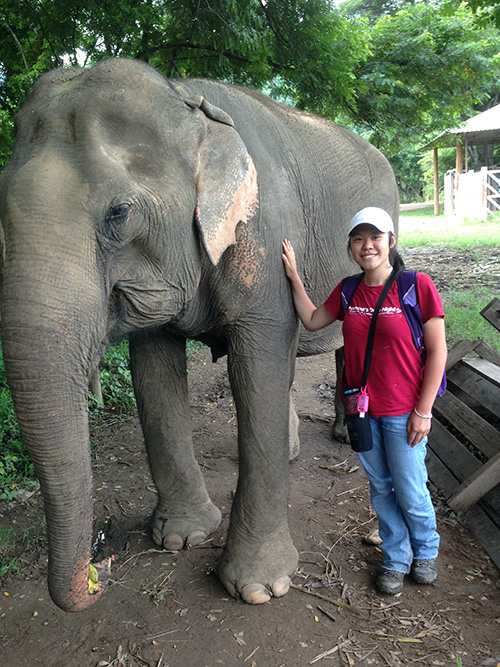 A web of ESF support set senior Yvonne Lim on a path to adventure last summer.
She began the summer as an intern at the New England Wildlife Center in Massachusetts, learning about veterinary medicine and working with species that included raccoons, ducks, geese, squirrels and rabbits. Then she spent two weeks in Thailand, tending elephants and shadowing the vets who cared for them.
"Working with the elephants was the best thing ever," said Lim, a senior from the Bensonhurst neighborhood of Brooklyn, who is majoring in wildlife science. "They are such gentle giants and people don't realize that."
Her participation in the ESF Honors Program provided a grant to get the travel started and she supplemented it with support from the Collegiate Science and Technology Entry Program (CSTEP), an enrichment program that fosters academic success.
Lim hopes to attend veterinary school after she graduates from ESF so she plunged into the opportunity to work with wildlife.
"It was a lot of hands-on work," she said. "The first day in Massachusetts was a tour of the clinic, and the second day I was thrown into work. It's very rewarding to work with some of these animals. You work with an animal for a couple of weeks, you see it recover and then you release it."
Lim traveled to Thailand as a participant in Loop Abroad's College Veterinary Service Program. Her first week was at Animal Rescue Park, where she helped care for stray dogs and cats, and learned how to conduct common diagnostic tests and draw blood. "Most of these things you don't do until you get to vet school," she said.
The second week was spent at Elephant Nature Park. "It was definitely eye opening," Lim said. "It's very sad but interesting to learn about. You see the scars and learn about how they were treated."
She helped bathe elephants in the river, prepared meals for them and helped the vets who tended them. "I got to do a wound debridement on a foot abscess of an elephant who stepped on a landmine," she said.
She also participated in a diet study, watching one elephant for an entire day to record what and how much the animal ate. Her subject was a female named Saza, who was well into her 70s. "The old girl loved eating sweet things like watermelon and tamarins, but disliked her rice balls and corn stalks," Lim said. "When she's thirsty, she walks very fast across the open field to get to the hose and will patiently wait for her handler to get there. It was quite an experience, chasing after an elephant three times my age while trying to avoid herds of water buffalo and other elephant family groups."
"If I hadn't come to ESF, I never would have been able to do this," Lim said. "As small as this school is, there are definitely a lot of opportunities. Anything you are interested in, you'll fit right in. People are very supportive here."
ESF Students Make their Mark