Closed-Loop Art: Woodburner Uses Material at Hand
Senior donates artwork to Student Showcase Symposium

Posted April 2016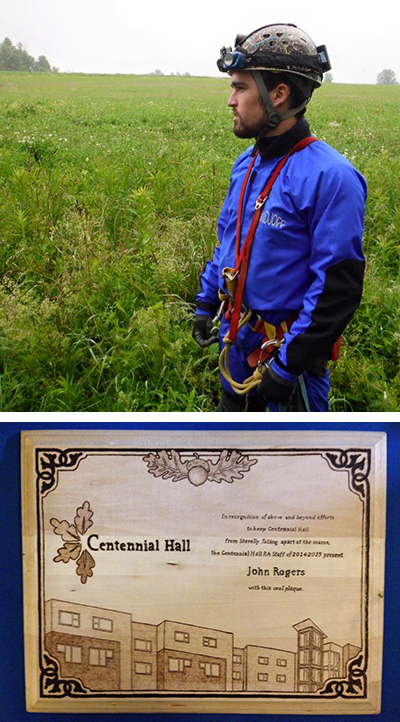 ESF senior Joseph O'Reilly doesn't always look far when he needs supplies for one of his favorite pastimes: woodburning. He often finds the raw material right on campus.
Sometimes, because he is a member of the ESF Woodsmen's Team, he collects the "cookies" the team members slice from logs during practice; the flat, circular disks provide the right medium for his art. Always on the lookout for resources, O'Reilly was once able to salvage scrap wood from a construction project at the dining facility in Sadler Hall on the Syracuse University campus.
Although he is resourceful enough to find his own material, O'Reilly sometimes resorts to store-bought basswood because it can be found in different forms in craft stores for affordable prices.
He discovered his passion for woodburning about two years ago and taught himself the skill. The only necessary piece of equipment, he said, is a $20 wood-burning kit from an art supplies store. He spends anywhere from five to 30 hours on a piece, depending on the size and amount of detail. He said that he has done pieces ranging in size from pendants to tabletops.
Some of his work has ended up in the hands of members of the ESF community, forming an artistic closed loop. Last year, the Centennial Hall resident assistants, who were familiar with his work, asked him to help them honor the Centennial Hall maintenance workers. O'Reilly produced two planks with a custom-made image of Centennial Hall, which opened in 2011 as ESF's first residence hall.
O'Reilly also has donated some of his woodburning art to the Society for Conservation Biology for its CNY Student Showcase Symposium April 16. The symposium, part of ESF's Earth Week activities, gives students an opportunity to donate their art for a silent auction. The proceeds support society activities.
O'Reilly is majoring in environmental science and has a marine science minor. He is interested in the hydrology and ecology of different watersheds, so his focus is watershed sciences. He is both the president of the Syracuse University Outing Club (SUOC) and one of the club's caving leaders.
His next step after graduation will take him to the Adirondacks to work for Summit Base, which runs adventure programs in the region. He will be a caving specialist, leading visitors on trips to explore local caves. He plans to continue his education next fall as a graduate student at SUNY Oneonta, studying lake management.
- By Yocasta Pichardo, ES '16
ESF Students Make their Mark