3 ESF Students among Winners at SU RvD iPrize Competition
Farm to Flame, Food for Community move on to state competition

Posted April 2018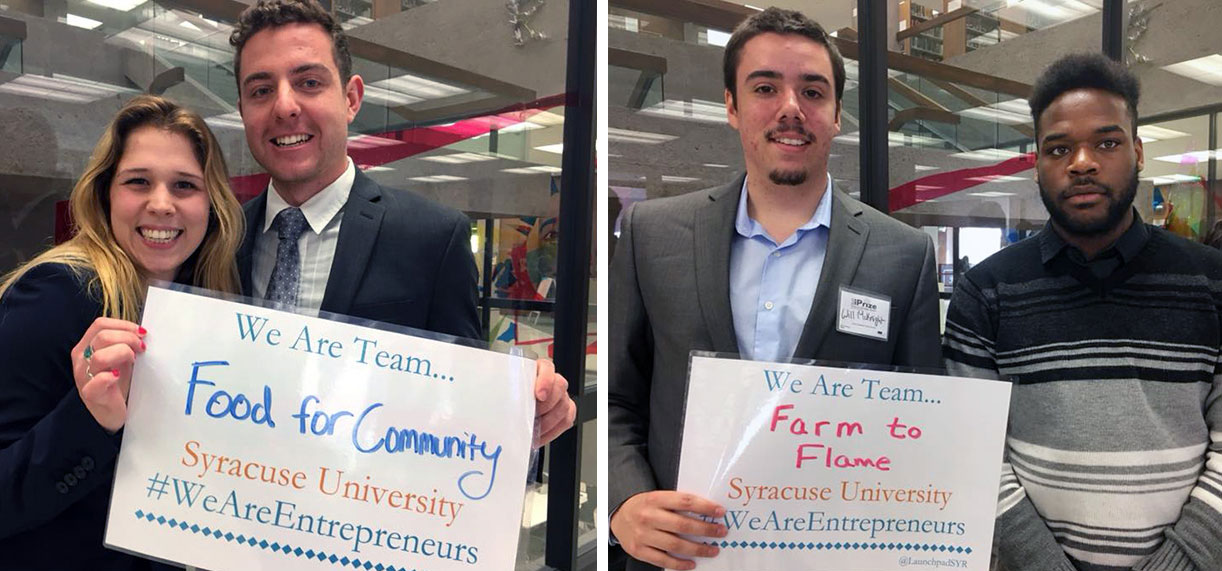 Three ESF students were members of winning teams in 2018 RvD iPrize competition at Syracuse University.
The ESF students were all on teams that competed in the "sustainable and social entrepreneurship" category
ESF was represented on the Farm to Flame team by Sayje Lasenberry '19. Farm to Flame was founded by Lee Mendes McKnight '18, of the Maxwell School at SU, with Lasenberry and Kwaku Jyamfi '18, of the College of Engineering and Computer Science at SU. Farm to Flame's project is a smokeless, odorless biomass generator system that leverages locally grown crops to harness the power of energy and build more sustainable rural economies. The team won $3,000.
Winning $500 were Samantha Guillaume '18 and Patrick Carleton '18 for their Food for Community project, a not-for-profit that transports unused food from local schools to local food pantries.
The RvD iPrize also served as the regional qualifier for the 2018 New York State Business Plan Competition (NYBPC). Both Farm to Flame and Food for Community were chosen to move on to compete in the ninth annual NYBPC event Friday, April 27, in Albany, New York.
The competition was March 23. The event, sponsored by the School of Information Studies (iSchool), was coordinated by the Blackstone LaunchPad at Syracuse University and hosted at Syracuse University Libraries.
More than 55 teams applied to compete in this year's event, with 40 selected to pitch in the event which offered $40,000 in prizes through the Raymond von Dran (RvD) Fund for Student Entrepreneurship at the iSchool. This year, an additional $10,000 was also awarded in inaugural Spirit of Entrepreneurship Awards through an additional gift to the iSchool by a private family foundation.
The RvD Fund was established to honor the memory of the former iSchool dean, who helped students bring their ideas to life through the spirit of entrepreneurship. Gisela von Dran, his widow, helped award iPrizes with iSchool Dean Liz Liddy at this year's event.
- This story is based on a news release from Syracuse University.
ESF Students Make their Mark