Two ESF Students Honored with Chancellor's Award
Jet Lewis and Ben Taylor receive prestigious awards

Posted April 2018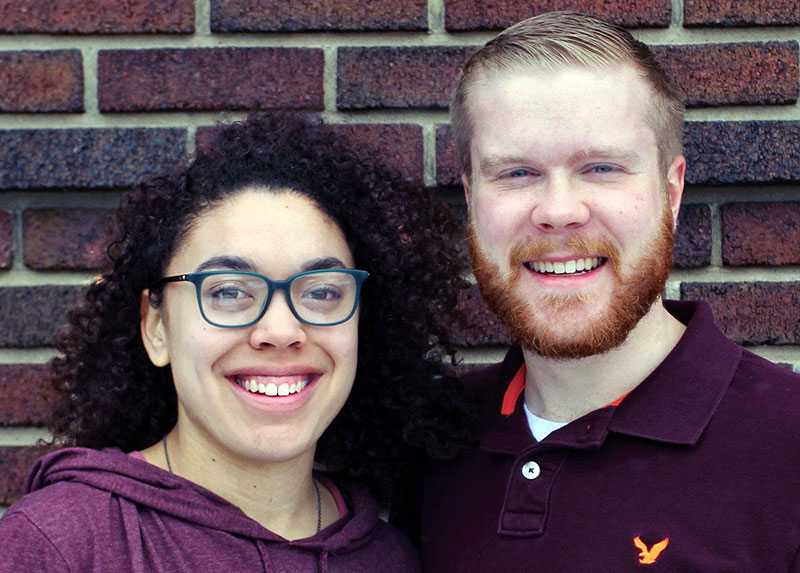 Two undergraduate students from the College of Environmental Science and Forestry (ESF) have been honored with the 2018 Chancellor's Award for Student Excellence.
Jet'aime "Jet" Lewis of Murrieta, California, and Benjamin "Ben" Taylor of Panama, New York, received the honor, which includes framed certificates and medallions that can be worn at commencement.
State University of New York Chancellor Kristina M. Johnson presented the awards Tuesday, April 10, to 249 SUNY students from across the state. SUNY students, their families, campus presidents and faculty convened in the Albany Capital Center to congratulate this year's awardees.
"I am immensely proud of these students, who have demonstrated academic excellence and dedication to enriching their campuses and communities," said SUNY Chancellor Kristina M. Johnson. "From research publications in industry journals to volunteering in hospitals and local clinics to holding leadership roles at their institutions, I am inspired by each student we recognize today. Congratulations to all of the students receiving this year's award."
Chancellor Johnson was joined by special guest Erin Hamlin, a four-time Olympian, 2014 bronze medalist, and two-time luge world champion. Hamlin made history at the 2014 Sochi Olympic Games as the first American (male or female) to win an Olympic medal in singles luge and was the first U.S. woman to win a medal in any luge discipline at the Olympic Games. The Olympian and world champion earned her A.A. in interdisciplinary studies online from Empire State College.
"As a proud SUNY alum, it is my honor to stand here today as we celebrate a room full of SUNY students and their pursuit of excellence in academics, athletics, and community," said Hamlin. "Your achievements as SUNY students is just the beginning, and I have no doubt that this determination and dedication you possess will drive you to excel in all of your future endeavors."
Chancellor's Award honorees excel both in academic achievement and in at least one of the following areas: leadership, athletics, community service, creative and performing arts or career achievement. This is the highest honor a student can receive from SUNY.
Lewis is majoring in environmental biology. She is a resident assistant in ESF's Centennial Hall and a former member of the Undergraduate Student Association, where she served as chief communications officer, first-year senator and club representative). She is also a peer mentor student organizer, a teaching assistant in General Biology II, a peer tutor coordinator, a member of the Intercollegiate Athletics Board and an intern in the ESF Sustainability Office.
Taylor is majoring in environmental resources engineering. He has been an active member of the Undergraduate Student Association, current in his second term as president. He has also served as class senator and vice president. He has served as orientation leader and class marshal, and he is the founder of The Gathering at ESF. He has worked as a student employee with ESF Computing and Network Services.
ESF Students Make their Mark