Feathered Dinosaur: 'Chicken from Hell'
ESF Top 10 New Species of 2015
SHARE:
About the Feathered Dinosaur
Name: Anzu wyliei
How it made the Top 10: With a mixture of bird and dinosaur features, Anzu wyliei is from a bird-like group of dinosaurs that lived in North America. A contemporary of the more famous T. rex and Triceratops, this species made nests and sat on the eggs until they hatched. Among their bird-like features were feathers, hollow bones and a short snout with a parrot-like beak. These omnivores appear to have lived on floodplains eating vegetation, small animals and possibly eggs. Three well-preserved partial skeletons were discovered in North and South Dakota, in the Hell Creek Formation. Because some caenagnathids were chicken-sized, this new dinosaur was dubbed "chicken from Hell." However, at more than 10 feet in length (3.5m), 5 feet in height (1.5m) and 600 pounds (200-300kg), this was no chicken.
Kingdom: Animalia
Phylum: Chordata
Class: Sauropsida
Order: Saurischia
Family: Caenagnathidae
Size: Length 3.5 m, height at hip 1.5 m, body mass 200-300 kg.
Etymology: The genus name Anzu derived from ancient Mesopotamian mythology for a feathered demon. The specific epithet is a patronym for Mr. Wylie J. Tuttle, grandson of museum patrons.
Type locality: USA, South Dakota, Harding County
Holotype: Carnegie Museum of Natural History, Pittsburgh
More information: Lamanna, Matthew C., Sues, Hans-Dieter, Schachner, E. R., and T. R. Lyson. 2014. A new large-bodied Oviraptorosaurian Theropod dinosaur from the Latest Cretaceous of Western North America. PLoS One 9: e92022.
---
ESF — New York's Global Environmental College
Science, Engineering, Management, Communications, Policy, Design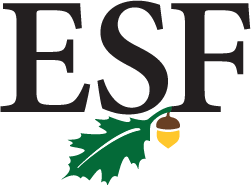 ---