Coral Plant: Atypical Tubers
ESF Top 10 New Species of 2015
SHARE:
About the Coral Plant
Name: Balanophora coralliformis
How it made the Top 10: This parasitic plant, discovered and almost immediately considered endangered, has elongated, repeatedly branching, and rough-textured aboveground tubers. These peculiar tubers give this root parasite from the Philippines a coral-like appearance distinct from the more typical underground tubers of related species. Parasitic plants do not contain chlorophyll and are incapable of photosynthesis, so they draw their nutrition from other living plants. This species is, so far, known from fewer than 50 plants, all found between 4,800 and 5,600 feet (1,465 and 1,735 m) elevation on the southwestern slopes of Mt. Mingan in mossy forest areas. Because so few plants are known to exist, and the narrow area in which they live is unprotected, the scientists who described it consider the plant critically endangered.
Kingdom: Plantae
Family: Balanophoraceae
Size: Clumps up to 30 cm; tuber branches up to 5 cm length
Type locality: Mt. Mingan, Aurora Province, Luzon, Philippines
Holotype: Philippine National Herbarium
Etymology: The species is named for the coral-like form of its above-ground tubers
More information: Pelser, Pieter B., Tandang, Danilo N., and Julie F. Barcelona. 2014. Balanophora coralliformis (Balanophoraceae), a new species from Mt. Mingan, Luzon, Philippines. Phytotaxon 170: 291-295.
---
ESF — New York's Global Environmental College
Science, Engineering, Management, Communications, Policy, Design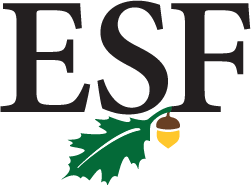 ---