The X-Phyla: Mysterious Newcomers
ESF Top 10 New Species of 2015
SHARE:
About the X-Phyla
Name: Dendrogramma enigmatica
How it made the Top 10: Dendrogramma enigmatica and a second new species, D. discoids, are multicellular animals that look rather like mushrooms, with a mouth at the end of the "stem" and the other end in the form of a flattened disc. The best information suggests that they are related to the phylum Cnidaria (jellyfish, corals, sea anemones and hydras) or Ctenophora (comb jellies) or both, but the new animals lack evolutionary novelties unique to either and could be an entirely new phylum. They also resemble fossils from Precambrian time, perhaps making them living fossils of sorts. The mystery surrounding this animal accounts for its name, and its relationships are likely to remain enigmatic until specimens can be collected suitable for DNA analysis. The new animal is small, with a stalk less than a third of an inch (8 mm) in length and a "cap" that measures less than a half-inch (11mm) across. It was found on the sea floor, at a depth of about 3,200 feet (1,000 meters), off Point Hicks, Victoria.
Kingdom: Animalia
Phylum: Unknown, possibly new
Family: Dendrogrammatidae
Size: The stalk is about 7.8 mm in length and "cap" about 11 mm.
Etymology: The name refers to the enigmatic relationships to known phyla.
Type locality: Australia, Victoria, S. of Point Hicks, from sea floor at about 1000m depth
Holotype: Museum Victoria, Melbourne, Australia
More information: Just, Jean, Kristensen, Reinhardt Møbjerg, and Jørgen Olesen (2014) Dendrogramma, New Genus, with Two New Non-Bilaterian Species from the Marine Bathyal of Southeastern Australia (Animalia, Metazoa incertae sedis) — with Similarities to Some Medusoids from the Precambrian Ediacara. PLOS One 9: 1-11.
---
ESF — New York's Global Environmental College
Science, Engineering, Management, Communications, Policy, Design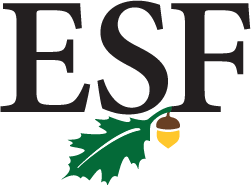 ---