Indonesian Frog: A Tad Unusual
ESF Top 10 New Species of 2015
SHARE:
About the Indonesian Frog
Name: Limnonectes larvaepartus
How it made the Top 10: There's an exception to every rule and the newest species of fanged frog is such an exception. Unlike other frogs, Limnonectes larvaepartus from Sulawesi Island, Indonesia, gives birth to tadpoles that are deposited in pools of water. On one occasion, a female gave birth to a tadpole in the hand of a scientist at the moment she was captured. Fewer than a dozen of the world's 6,455 frog species have internal fertilization and all except this new species lay fertilized eggs or give birth to tiny froglets. The species, about 1.5 inches long (40mm), is found in the island's Northern Peninsula on the western edge of the Central Core. The region has not been fully explored for frogs, so the extent of this species' range is not yet known. The frogs live in natural and disturbed forest habitats, often in areas occupied by one to five other species of the same genus. The frogs are found above flowing streams in leaf litter, grassy vegetation, or on rocky substrates.
Kingdom: Animalia
Family: Dicroglossidae
Size: about 40 mm
Etymology: The specific epithet derives from larvae (the plural form of word for early developmental stage of an animal) and partus, to give birth.
Type locality: Indonesia, Sulawesi, Gorontalo Provinsi, Dunu Village, 189 m elevation.
Holotype: Museum Zoological Bogoriense, Indonesia
More information: Djoko T. Iskandar, Ben J. Evans, and Jimmy A. McGuire. 2014. A novel reproductive mode in frogs: A new species of fanged frog with internal fertilization and birth of tadpoles. PLoS ONE 9(12): e115884. Doi: 10.1371/journal.pone.0115884.
---
ESF — New York's Global Environmental College
Science, Engineering, Management, Communications, Policy, Design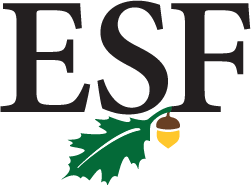 ---