Bromeliad: Feliz Navidad
ESF Top 10 New Species of 2015
SHARE:
About the Bromeliad
Name: Tillandsia religiosa
How it made the Top 10: During Christmas celebrations in Mexico, elaborate altar scenes or "nacimientos" depicting the birth of Christ are assembled by villagers. In Sierra de Tepoztlán, Tlayacapan, San José de los Laureles, and Tepoztlán, a beautiful bromeliad plant is frequently incorporated in the display. The plant turned out to be new to science. Tillandsia religiosa, with its rose-colored spikes and flat green leaves, can be found growing up to 5 feet tall (1.5m) in rocky habitat in northern regions of Morelos, Mexico. Stemless, solitary plants are found on cliffs and vertical walls in deciduous, coniferous, oak and cloud forests at altitudes between 6,000 and 7,000 feet (1,800 to 2,100 m) elevation, where they flower from December to March. The bromeliad is an example of a species long known to local inhabitants but only recently discovered by science.
Kingdom: Plantae
Family: Bromeliaceae
Size: 0.8 to 1.5 m tall
Etymology: The specific epithet is in reference to the religious-ornamental use of the species.
Type locality: Mexico, Morelos, Tlayacapan
Holotype: Universidad Autónoma Metropolitana-Iztapalapa
More Information: Rodrigo Hernández-Cárdenas, Edith González-Rocha, Adolfo Espejo-Serna, Ana Rosa López-Ferrari, Rosa Cerros-Tlatilpa, and Renate Ehlers. 2014. Tillandsia religiosa, a new species from the state of Morelos, México. Phytotaxa 184: 53-57.
---
ESF — New York's Global Environmental College
Science, Engineering, Management, Communications, Policy, Design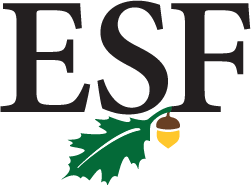 ---