Katydid: Females are pretty in pink
ESF Top 10 New Species of 2017
SHARE:
About the Katydid
Eulophophyllum kirki
Location: Malaysia
Some discoveries are made when least expected. This spectacular new species of katydid was discovered while researchers were looking for tarantulas and snakes in Borneo.
Named for the photographer of the only known specimen, Peter Kirk, Eulophophyllum kirki'smoststriking feature is its use of color and mimicry to blend into the foliage. The katydids are about 40 mm (1.5 inches) in length with the males uniformly green and females brilliant pink. The newly named species is amazingly leaf-like in appearance, including hind legs that are smaller, yet similarly leaf-like in shape and detail.
Because it was discovered in a highly protected area, collecting permits could not be obtained and no specimens were collected. This creates the potential of confusion in the future as similar katydids are discovered and illustrates tensions between the advancement of science and well-intentioned regulations on collecting.
Type locality East Malaysia: Sabah: Danum Valley, lowland forest, ca. 170 m elevation
Type a photograph
Etymology Named in honor of photographer of type, Peter Kirk
Description Ingrisch, S., Riede, K., and G. Beccaloni. 2016. The pink katydids of Sabah (Orthoptera: Tettigoniidae: Phaneropterinae: Eulophophyllum) with description of two new species. Journal of Orthoptera Research 25: 67-74.
---
ESF — New York's Global Environmental College
Science, Engineering, Management, Communications, Policy, Design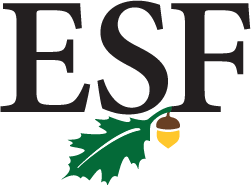 ---