Ant: Tiny spiny soldiers
ESF Top 10 New Species of 2017
SHARE:
About the Ant
Pheidole drogon
Location: Papua New Guinea
With their spiny backs reminding scientists of a dragon, this new species of ant is named for Drogon, the fierce black dragon commanded by Daenerys Targaryen in the epic fantasy, Game of Thrones. Pheidole drogon is one of two new species of spiny ants from Papua New Guinea.
Previously, large back spines were assumed to be a defense mechanism. However, microtomography — similar to medical CT scans — suggests at least some of the spines serve as a location for muscle attachment. Major workers, or soldiers, have exceptionally large heads and mandibles used to crush seeds otherwise inedible to them. Large heads require large muscles that must be anchored somewhere, such as the spines. However, spines occur also in minor workers, with smaller heads, and not all spines are host to muscle attachment.
Etymology Specific epithet refers to Game of Thrones' Drogon, black dragon of Daenerys Targaryen, fictional character from novel A Song of Ice and Fire by George R. R. Martin
Type United States National Museum of Natural History
Type locality Papua New Guinea, Morobe, 11 km E Baiyer River Sanctuary, montane forest at tuna bait
Distribution Known only from Papua New Guinea
Description Sarnat, E. M., Fischer, G., and E. P. Economo (2016) Inordinate spinescence: Taxonomic revision and microtomography of the Pheidole cervicornis species group (Hymenoptera: Formicidae). PLoS One 11: e0156709.
---
ESF — New York's Global Environmental College
Science, Engineering, Management, Communications, Policy, Design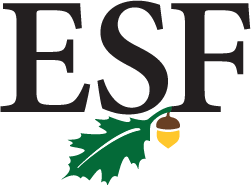 ---