Stingray: New freshwater 'king' reported in Brazilian river
ESF Top 10 New Species of 2017
SHARE:
About the Stingray
Potamotrygon rex
Location: Brazil
This large, strikingly patterned freshwater stingray is endemic to the Tocantins River in Brazil. The type specimen is 1,110 mm (43 inches) in length; large specimens may weigh up to 20 kg (44 pounds).
P. rex is among the 35 percent of the 350 documented fish species in the Tocantins River that are found nowhere else on Earth. The stingray is blackish to blackish-brown in background color, with intense yellow to orange spots that, combined with its size, earn it the title "king." The discovery of such a large and brightly colored ray highlights how incompletely we know fishes of the Neotropics.
Etymology From the Latin rex, meaning king; so named for large size and striking color pattern
Type locality Brazil: Tocantins state; rio Tocantins near mouth of right bank tributary rio Manoel Alves
Type Museum of Zoology, Universidade de São Paulo.
Distribution Upper and middle reaches of Rio Tocantins.
Description De Carvalho, M. (2016) Potomotrygon rex, a new species of Neotropical freshwater stingray (Chondrichthyes: Potamotrygonidae) from the middle and upper rio Tocantins, Brazil, closely allied to Potomotrygon henlei (Catelnau, 1855). Zootaxa 4150: 537-565.
---
ESF — New York's Global Environmental College
Science, Engineering, Management, Communications, Policy, Design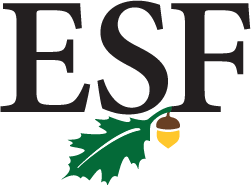 ---