Atlantic forest tree: Mighty in size, small in number
ESF Top 10 New Species of 2018
SHARE:
Google Maps view
About the Tree
Dinizia jueirana-facao
Location: Brazil
The legume genus Dinizia was known, until now, from a single Amazonian tree species, D. excelsa, discovered nearly 100 years ago. Dinizia jueirana-facao, up to 130 feet (40 m) in height, emerges above the canopy of the semi-deciduous, riparian, pristine Atlantic forest where it is found. This massive tree, weighing an estimated 62 tons (56,000 kg), is smaller than its Amazonian sister-species and lacks its buttresses, but is similarly impressive. D. jueirana-facao is known only from within and just beyond the boundaries of the Reserva Natural Vale in northern Espirito Santo, Brazil. While large in dimension, the tree is limited in numbers — it is known from only 25 individuals, about half of which are in the protected area, making it critically endangered. The woody fruits are impressive in size, too, reaching about 18 inches (0.5 m) in length. More than 2,000 species of vertebrate animals live in the Atlantic forest, including almost 200 endemic species of birds. This forest is home to more than half of the threatened animal species in Brazil, but its range has been severely diminished and fragmented, with perhaps 15 percent of its once 330 million acres (more than 1.3 million square kilometers) remaining.
Etymology The species name is the local name for the tree "jueirana-facão."
Type locality Brazil: Espírito Santo, Linhares, Reserva Natural Vale
Type Herbário da Reserva Natural Vale, Vale – Linhares
Description Lewis, G.P., Siqueira, G.S., Banks, H., and A. Bruneau (2017) The majestic canopy-emergent genus Dinezia (Leguminosae: Caesalpinioideae), including a new species endemic to the Brazilian state of Espirito Santo. Kew Bulletin 72: 48. DOI: 10.1007/s12225-017-9720
---
ESF — New York's Global Environmental College
Science, Engineering, Management, Communications, Policy, Design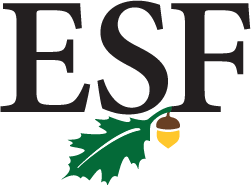 ---