Baffling Beetle: Camouflaged hitchhiker
ESF Top 10 New Species of 2018
SHARE:
Google Maps view
About the Beetle
Nymphister kronaueri
Location: Costa Rica
Nymphister kronaueri is a tiny beetle that lives among ants. At about 1.5 mm in length, 16 of them could line up head-to-tail in the space of an inch (2.5 cm). But their story gets much better. They live exclusively among one species of army ant, Eciton mexicanum. The host ants, as with other army ants, do not construct permanent nests but are nomadic. In the case of E. mexicanum, they spend two to three weeks on the move, making raids each day to capture thousands of prey items, then spend two to three weeks in one location. While the beetle can move about and feed while the host colony is stationary, it must make the trip with the ants when they are on the move to a new location. The beetle's body is the precise size, shape and color of the abdomen of a worker ant. The beetle uses its mouthparts to grab the skinny portion of the host abdomen and hang on, letting the ant do the walking. At a glance, an ant with the beetle onboard appears to have two abdomens but the upper one is a beetle. Like other myrmecophiles (literally, ant lovers), these beetles must use chemical signals or other adaptations to avoid becoming prey themselves. Exactly how that works in the case of N. kronaueri is yet to be determined.
Etymology Species named in honor of Daniel Kronauer, field biologist and student of army ants, who discovered the species among emigrating ants.
Type locality Costa Rica: Heredia, ~3.5 km SE Puerto Viejo, La Selva Biological Station
Type Field Museum of Natural History, Chicago
Description von Beeren, C. and A. F. Tishechkin (2017) Nymphister kronaueri von Beeren & Tishechkin, sp. nov., an army ant-associated beetle species (Coleoptera: Histeridae: Haeteriinae) with an exceptional mechanism of phoresy. BMC Zoology 2:3, 16 pp. DOI 10.1186/s40850-016-0010-x
---
ESF — New York's Global Environmental College
Science, Engineering, Management, Communications, Policy, Design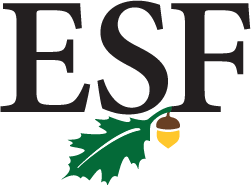 ---