Cave Beetle: Imprints of darkness
ESF Top 10 New Species of 2018
SHARE:
Google Maps view
About the Beetle
Xuedytes bellus
Location: China
Beetles that become adapted to life in the permanent darkness of caves often resemble one another in a whole suite of characteristics including a compact body, greatly elongated, spider-like appendages, and loss of flight wings, eyes and pigmentation. Such troglobitic beetles are a prime example of convergent evolution, that is, unrelated species evolving similar attributes as adaptions to similar selection forces. A new species of troglobitic ground beetle from China, less than half an inch in length (about 9 mm), is striking in the dramatic elongation of its head and prothorax, the body segment immediately behind the head to which the first pair of legs attach. Xuedytes bellus was discovered in a cave in Du'an, Guangxi Province, China.Like much of southern China, this is in a vast karst landscape riddled with caves and home to the greatest diversity of cavernicolous trechine ground beetles (family Carabidae) in the world. To date, more than 130 species, representing nearly 50 genera, have been described from China. This new one is a spectacular addition to the fauna.
Etymology The name bellus translates as beautiful which, as always, is in the eye of the beholder.
Type locality China: Cave II, southeastern Du'an Yao, Hechi Shi, northern Guangxi Zhuang Autonomous Region, southern China.
Type South China Agricultural University, Guangzhou, insect collection.
Description Tian, M., Huang, S. and D. Wang (2017) Discovery of a most remarkable cave-specialized trechine beetle from southern China (Coleoptera, Carabidae, Trechinae). ZooKeys 725: 37-47.
---
ESF — New York's Global Environmental College
Science, Engineering, Management, Communications, Policy, Design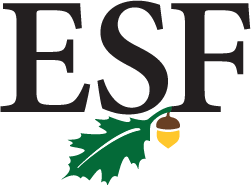 ---