FAQ
Table of Contents
---
So, how'd this get started? What are the goals? Can I join?
Have you ever noticed that its perfectly OK for the guys to get together and talk shop, or shoot the breeze, or any combination thereof? Shouldn't others be afforded the benefits of that advice and opportunities of bouncing ideas around?
The ESF Women's Caucus was formed by a small group of ESF students, staff, and faculty who wanted the opportunity to work, socialize and network, with colleagues, and to learn from one another. The first meeting convened November 17, 1994 as a brown-bag lunch discussion.
This particular Caucus is non-partisan. It aims to raise consciousness about "women's" concerns, to work for change to improve the climate for minoritized individuals at ESF, to foster community, and to serve as a respectful forum for diverse ideas.
Our goals are to increase the number of women (and other minoritized) students and faculty at ESF, find ways for women (ditto) to better communicate and coordinate or sponsor activities that benefit groups underrepresented in STE(A)M, and to improve services for all ESF families.
Membership is open to full- and part-time students, staff and faculty, current and past.
---
Why the seminar and speaker series?
Because of the small number of women faculty at ESF, the series provides mentoring opportunities for students, both female and male, who have little regular exposure to female role models. Bringing these professionals to campus as seminar speakers helps women and men in all stages of their careers expand their vision of the roles of women in professional fields. Speakers meet with classes, clubs, and individual undergraduate and graduate students seeking advice about careers they may never have pictured for themselves. A small group of students has an added challenge and opportunity: students from the associated 1-credit seminar (FOR 797-2/496-10) are charged with coordinating these meetings during each speaker's stay. The speaker also meets with class members discuss her experiences with the roles and topics of the course.
There aren't enough women that have been here long enough to form an "Old Girl's Club" at ESF--or at SU and Upstate either. The speaker series serves as chance for ESF women to develop a network with interested and interesting women across campus and the University Hill as well as around the country.
---
Why do we take Daughters and Sons to work?
The Daughter's only program was launched in 1993 by the Ms. Foundation as a response to studies by Harvard University, American Association of University Women (AAUW) and the Minnesota Women's Fund, which indicate that a girl's self-esteem and confidence in intellectual development plummet as they advance toward adolescence. In recent years, the program has expanded to encompass the boys who will become the partners, coworkers, and friends of the women of the future. ESF prefers to take "our Kids", welcoming all children (within the age range) inclusive of gender identity. Visit our Kids Day page for the whole story, and more about national efforts and our own program.
---
Why should I come to a potluck supper? Can I bring my kids?
Sometimes it seems like there are actually miles between the different departments, but the Main Campus in Syracuse is really quite small, and it would be nice to know some friendly people in every building. We share summaries electronically, so those that cannot make it can peruse the highlights. Its quite nice when we can coordinate ways for those at our remote campuses (especially the Adirondack Ecological Center in Newcomb, NY, and the NYS Ranger School, in Wanakena, NY) to visit or participate electronically.
If you can't/didn't have time to cook or pick something up, bring a few dollars. We will arrange for take-out or delivery from a local restaurant. This practice started in the early years of the Caucus, when several people found themselves huddled around a vending machine looking for potential items at the last minute. They opted to pool their funds and order a pizza. If you know of quick, tasty, inexpensive places that can accommodate some dietary restrictions, please send your recommendations our way!
Adequate, affordable childcare is an issue affecting many families on campus, so we invite you to bring your kids along to all of our programs. They do a great job of entertaining one another!
---
Who is in charge?
In general, the Women's Caucus is non-hierarchical. There are no officers and decisions are made by consensus. However, we do have a program coordinator (Heather, engelman@esf.edu, 315-470-4752), guided by steering and advisory committees, and a few other individuals who serve as leads on individual projects.
---
When did women become part of the student body? How many women are on the faculty?
ESF began as an all male college in 1911; there were few women students during the early decades. There was only one woman enrolled, for one academic year (1915-16) until 1938, when another began (but did not complete) a graduate program. It was not until the late 1940s until the first 3 women graduated: Ruth Warret (Landscape Architecture) and Barbara Jane Hennessey (Pulp and Paper) were the very first women graduates in 1947; Mildred Kocic (Pulp and Paper) followed in 1948. Records on further marginalized gender identities are quite slim. We do not know who might have checked a binary gender box that didn't fully match their identity. But we do know
"By 1969, women numbered only 73 out of 1300 enrolled...as the College's work expanded in research fields such as biology, biochemistry and paper fiber technology, so did its appeal to a wider student base. Job opportunities in related industries also began to expand for women by the late 1960s. In 1967, the first female completed the timberland management curriculum, and the phrase 'lumberjills' appeared in the press. Traditions were beginning to fall, but it would take a few more years for true gender equality to spread throughout the college.
"The early 1970s saw the first female trustees appointed to the board. The first woman graduated from the Ranger School in 1974. ... A woman's [Woodman] team was begun in 1973 and won an international competition in 1975. And by 1974, an affirmative action program was underway at ESF to increase minority recruitment. In 2011, 40% of the 2,200 enrolled students are female." (transcribed 12 Sept 2011 from Centennial signage posted in Moon Library). Also of note, it wasn't until 1986 until a woman chaired Faculty Governance (Betsy Elkins) or GSA (Ann Moore).
Even through the early 90s, there were very few women professors:
Dr. Renata Marton came to the US-and the College of Forestry at SU (which later became ESF)-- and served as a Research Associate in Pulp and Paper Technology 1957-1959; Assistant Professor 59-61, Associate Professor 1961-68, both in Pulp and Paper Research; and Professor, Paper Science and Engineering, 1968-80. Beginning in 1971, she was also a Senior Research Associate, Empire State Paper Research Institute, continuing both research and advising graduate students until retiring 1990. Dr. Marton passed away in 1992. To learn more about Dr. Marton's work, visit ESFKidsDay.
Dr. Chun-Juan "June" Wang, who was hired as a non-tenure track Research Associate, Environmental and Forest Biology, in 1959. She advanced through various grades to become one of ESF's first women Professors in 1972 and earn the SUNY Chancellor's Award for Excellence in Teaching in 1990. She "retired" in 1998, but has maintained an active research program.
Dr. Mildred Faust served as adjunct professor from 1970-1988. Dr. Faust was the first woman biologist to receive tenure at Syracuse University, where she taught botany, ecology, and palynology from 1926-1965. The Mildred E. Faust Herbarium, her lifelong collection of plant specimens, is among the specimens housed in Illick Hall. As a renowned botanist and authority on the flora of New York State and Onondaga County. The Mildred Faust Trail (Clark Reservation) and the MIldred Faust Wildflower Garden at Baltimore Woods Nature Center are named in her honor.
Dr. Deborah Hill, School of Forestry 1979. Dr. Hill wasn't at ESF long. She has since been a Fulbright Scholar, and is now Extension Faculty Emeritus, University of Kentucky Forestry.
Prof Kathy Stribley joined the School of Landscape Architecture in 1981, and retired as Professor at the end of 2010
Dr. Maggie Shannon, Department of Forestry, 1986-92
Prof. Cheryl Doble joined LA in 1987; she retired as an Associate Professor in 2011
Prof Sally Webster taught computing classes as part of the Faculty of Environmental Studies from 1990-2000. She retired as an Associate Professor.
In 1993, Dr. Brenda Nordenstam (currently on medical leave) and Dr. Sue Senecah (now retired) joined Environmental Studies; Dr. Robin Kimmerer EFB.
In 1994, Dr. Parto (Partow) Pakdel joined Paper Science Engineering (until 1996; she's now with SINTEF, in Oslow, researching thin film and membrane technology) and Drs. Ruth Yanai and Valerie Luzadis joined the Faculty of Forestry. Luzadis and Yanai eventually became full Professors in the renamed Department of Forest and Natural Resources Management. Luzadis went on to chair the Department of Environmental Studies (interim in 2010; on a substantive basis 2011-2015), and serve as Interim Provost and Executive VP (2015-2017) and then Senior Advisor to the President. Yanai directed the Graduate Program in Environmental Science 2011-2015, but remained in FNRM.
ESF welcomed its first female department head in 2008--Susan Anagnost, in the since dissolved Department of Sustainable Construction Management and Engineering. Dr. Anagnost was promoted from within the campus community. After SCME's dissolution (2015), joined the Department of Paper and Bioprocess Engineering. After PBE was restructured in 2020, she and another SCME colleague moved to SRM. Dr. Anagnost has also directed the NC Center for Ultrastructure Studies in Baker Lab since 20?, and took over direction of the Tropical Timber Information Center in 2020.
There were women faculty in every academic department as of 2008. Click here (PDF) for a breakdown by discipline (2018).
In September 2020, Drs. Melissa Fierke (EFB), Mariann Johnston (SRM-Ranger School), and Huiting Mao (Chemistry) promotions to Professor pushed ESF Women in that title into double digits! They followed in the footsteps of: Dr. Chun Wang (EFB, promoted in 1972; retired,1998); Prof. Kathleen Stribley (LA, 2012; retired, 2004), Dr. Robin Kimmerer (EFB, 2004; Distinguished Teaching Professor, 2010); Dr. Ruth Yanai (FNRM, now SRM, 2007); Dr. Valerie Luzadis (ES, 2010; FNRM at the time of promotion); Dr. Karin Limburg (EFB, 2011; Distinguished Professor, 2020); Dr. Sue Anagnost (SRM, Prof 2013; Anagnost was in SCME at time of her promotion. With its dissolution in 2015, she joined PBE, and moved to current department in 2020); Dr. Lindi Quackenbush (ERE, 2018); Dr. Teresa Selfa (ES, 2018); and Dr, Jacqui Frair (EFB, 2019). Also in Fall 2020, with Dr. Anagnost's move and Dr. Biljana Bujanovic's retirement, the newly renamed Chemical Engineering department dropped to 0 women in any faculty title.
(P.S. Thank you, Flora Nyland, College Archivist Emerita, and Marcia Barber and Tim Blehar, Director and Assistant Director of Human Resources, for their help compiling names and dates.)
---
What's with the signs in the bathrooms? (Umm, where are those bathrooms? Where are the single stall ones? Are any of those bathroom stalls big enough for me to get in with my stroller, walker or wheelchair?)
Every women's and Gender Inclusive (aka all-gender or unisex) bathroom on the main campus (except in Centen) should have an acrylic holder by the sinks, paper towel dispensers or the door specifically for announcing Women's Caucus events. Each holder should also have a little label that directs you to this website (if either the holder, or its label is missing, please let Heather know)
As the saying goes, necessity is the mother of invention. The foremothers of the ESF Women's Caucus realized that quite a few staff and grad students spend the bulk of the day, every day, in their individual offices or labs, unless they, like their undergrads, were rushing between classes and meetings. Something would need to be on every bulletin board on campus for every woman to have an opportunity to see one (assuming it hasn't already been covered by some other flier). However, it was a safe bet that every woman on campus will visit a lavatory sooner or later. So, by placing more strategically, they could reach the target audience with only a handful of fliers.
Fliers were previously taped to walls, and then affixed to some surfaces with magnets, until we came to an agreement in 2003 with the former VP of Administration and Director of Physical Plant. We purchased 20 holders, which Physical Plant installed, for our use to prevent the tape residue and water splashed fliers that really weren't fair to those that try hard to keep those areas clean--additional holders have been added as more bathrooms came on line or converted to women's or all-gender restrooms. Fliers stay up, and stay looking nice, much longer now, so whenever we can, we can announce multiple events on single fliers, saving us more time and paper. In a world with push notifications for everything, simple signs like these seem outmoded, but because of that potential for information overload via every device, the simple signs are effective reminders.
We respectfully ask that if you see something of interest, you jot it or our URL down (or take a picture of it) rather than taking the flier.
If you have an upcoming event or an ongoing program that are consistent with the mission, please contact Heather about sharing space on the fliers. If there are not upcoming (including recurring) events, others are welcome to use the holders.
Where are those bathrooms? Which has .....? Once we made the bathroom list available, it made sense to add which ones had "amenities" that users might need, like single stall, assistive doors, changing table (only one, in the basement of Gateway Center), or a shower (Illick 2nd floor), as well as adding the nursing room (see below), not because we intend to refer Moms to bathrooms to nurse (Never, ever send a mom to a bathroom to nurse!) but because Moms are busy, and having all those resources on one page is easier--they already need to visit multiple buildings to use the amenities, they don't need to search multiple pages as well.
Bathroom Equity
ESF had a dearth of female faculty and low percentages of women students while most of our buildings were under construction and built to the codes of those times. Therefore, while the number of women, including transwomen, have increased exponentially, the number of "water closets" available to them have only increased with new construction (Jahn, Gateway, Centennial Hall) or significant renovations (Moon in 90s, Baker more recently). Single-stall women's rooms were carved out of men's rooms in Marshall and Bray ca 90s. Illick and Marshall in particular house academic departments with near gender parity, but very few stalls to accommodate the large numbers of users until their next renovations, and therefore bathroom breaks might take a while to accommodate the whole line, or allow users to visit facilities on other floors or in neighboring buildings. (We supported Academic Governance's Resolution on Bathroom Equity on ESF's main campus and appreciate the conversion of some men's rooms to women's rooms, and redesignation of single stall facilities to "all gender" ones, as well as ongoing work to add more gender inclusive and accessible facilities). Read more about those redesignations-HERE.
Field Labs/Experiences/Trips
Quite a few ESF labs occur out-of-doors. Please build in "bathroom" stops on your routes. Choose areas with adequate non-poisonous vegetation to allow some modesty screening for participants to relieve themselves. Please note that if anatomy and necessary biological function do not allow simply turning one's back for this, the farther away someone might need to go before finding dense enough screening to even begin their business, and the longer it will take to sufficiently dis- and re-robe. Some individuals may also need breaks to change sanitary supplies or express breastmilk, especially if a trip is longer than usual.
Therefore, before the group continues, please confirm that everyone has returned to a central spot. Under heat and/or exertion, additional stops may be warranted as everyone should be drinking more.
Failure to take bathroom or pumping breaks often leads to serious health ramifications (bladder distention or infection; dehydration; engorgement or mastitis; Toxic Shock Syndrome)--and students (or others on the down-side of a power differential) tend to chose these avoidable issues over the embarrassment of repeatedly requesting accommodations.
Is ESF breastfeeding friendly?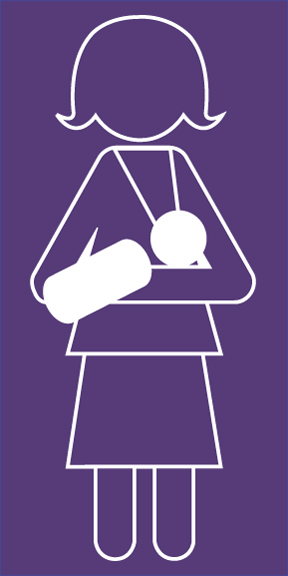 ESF Lactation Room:
313 Baker opened as a ESF's first dedicated Lactation Room on July 23, 2013. It houses a chair, counter, outlet, mirror, resource bulletin board, and a hand washing sink. This space took advantage of an "extra" janitor's closet, the in-house labor of Facilities for renovations, and the contributions of neighbor CNS for a convertible, cleanable chair.

Opening spring 2023! 258 Marshall was planned into the building's full renovation/campus accessibility project. The amenities are TBD.
Doors should remain unlocked except when in use, so individuals do not need make reservations to nurse, pump, or clean their pumps. Individuals with private offices may choose to use those spaces. Other accommodations may be arranged on a case-by-case basis. To discuss options confidentially, employees can contact Ellen Brown while students should contact Dean Anne Lombard.
Individuals are not obligated to use these spaces to nurse. NYS law protects the right to breastfeed wherever an individual has the right to be. That said, there are a few campus spaces where consumption of food or drink is prohibited (e.g., some laboratories and sample preparation areas) or ill-advised.
Related notes:
Syracuse University has Lactation Rooms as well. See for locations, and links explaining who (if anyone) to contact for each space.

A now defunct group called Syr Grad Students with Children created a map of the first of these spaces, as well as locations of community amenities that they found particularly family friendly

Changing table. The Gateway Center boasts a family restroom (i.e., large enough for a family member to accompany any person requiring assistance and with room for the individual's wheelchair or other mobility device, including an oversized stroller) with a changing table in its basement, north end, near the elevator.

Carer Grant Application. For more information on this trial grant program, click here.

While the nursing room appears on the "Locations of Women's and Gender Inclusive/All-Gender Bathroom", please don't refer anyone to a bathroom to pump or nurse.
Any Suggestions for Balancing Work and Family
Oh, goodness-the best solution is to culture a climate where balanced lives are expected for every person. This is a recurring conversation topic for potluck dinners, brown-bag lunches (summaries) and a query of every speaker in the Women in Scientific and Environmental Professions Speaker Series (want to participate? Enroll in the Perspectives on Career and Gender Seminar, look for it each Spring as FOR797/FOR 496). If there is specific aspect that you would like to focus upon at an upcoming program- please contact Heather engelman@esf.edu .
Pregnancy and the period with very young children pose some unique challenges that can result in temporarily reduced productivity and financial strain. That National Science Foundation The National Science Foundation announced a Career-Life Balance (CLB) Initiative in 2011, and expanded the program in late 2020 to allow for grantees to request additional funds to hire additional staff to keep a project on track during a PI or Postdoctoral fellow's family leave. In April 2022, ESF ORP launched a trial caregiver grant program to assist pre-tenure faculty with the costs of bringing their nursing infant and caregiver with them to conferences. For more information, and the application, please visit here.
Childcare?
Encouraged by the support of Governor Kathy Hochul and Interim Chancellor Deborah Stanley, ESF is exploring options for building a childcare center of our own or collaborating with another center.
In the interim, there are referral agencies to help you find a group or home-based care near home or work:
Additionally, PEACE, Inc. Head Start/Early Head Start (HS/EHS) may provide eligible families (no cost!) placement in one of their programs, or a secondary referral for low- or no-cost care, as well as for other services for employees on the main campus. The HS/EHS process begins at ESF. Contact Child Care Team member Heather Engelman for a referral and the pre-application form.
Students and employees may enroll children at Upstate Medical University's Child Care Center (1.3 mi), and The Children's Learning Center at Onondaga Community College (~5mi). Both have waiting lists, but have excellent reputations so it's worth inquiring and adding your name added to those lists.
Pro-tips:
If you have a co-parent at UMU or OCC, your child is eligible for a higher priority tier of that waitlist.

Syracuse University's Early Education and Child Care Center is limited to the children of their own full-time matriculated students and full-time benefits-eligible employees; if a co-parent meets these criteria, have them complete an enrollment interest form and check on the waitlist.
Anecdotally, the Early Childhood Development Program at the JCC, Rothchild Early Childhood Center at Temple Adath Yeshurun, and The Growing Place (315-446-5788; inside the May Memorial Unitarian Universalist church) are all popular centers in the University area. Jowonio School is well-recommended for pre-school ages (2-5).
Notes:
For school age-children on superintendent or teacher conference days, school breaks, and snow days—check with facilities that provide after-school or "wrap around" care in your district, either in a district building or off-site with bussing provided, e.g. YWCA/YMCA, JCC, Boys and Girls Clubs. Cooperative study/play dates to the MOST or recruiting a babysitter may also make sense for your family. Faculty, staff, and M/C parents should consider power differentials when making private arrangements with students.

Parents (of any gender identity) and others caring for, or supporing in any way, any family member, friend, or colleague-past, present, or future-consider subscribing to the FamilyResources listserve.

Grad Student parents interested in activating Syracuse University GSO Family ad-hoc committee (formerly the Childcare Taskforce) for specific tasks should reach out to their Internal VP. Grad students (and all others) are also invited to send questions to Heather Engelman or Executive People Office Rebecca Hoda-Kearse.
I want to attend this _____, but ... need help with my kids (or my elderly dad or ....)
In the olden days, one parent was always available to stay home, and/or a grandparent was close by to assist. Now, there a number of single parent households (or households split across great distances), both members of a dual career couple may need to attend the same meeting, an infant might not take a bottle, or Grandparent may be the one who needs care in your absence. If this describes you, a limiting factor in determining which conferences to attend (or which partner can attend this one): can I bring my child with me? How will I afford the additional expense of someone to care for them while I'm in the meeting? How can I obtain reliable child- or elder-care in my absence? If you are lucky, conference organizers have put some thought into this for you (and also have arranged a clean, comfortable convenient lactation space). For instance, the Ecological Society of America partners with local agencies for child care (6 mo-8 yr) or summer camp programs (8-12 yrs) on site during its annual meeting each August.
Even if child care options are in place, participants may need to bring someone (often a retired parent) to offer care for younger infants during the meeting-this arrangement definitely facilitates nursing. But, the costs of the formal programs, or the airfare and meal costs for childcare providers on site or at home can be prohibitive. Beginning April 2022, full-time, pre-tenure faculty seeking assistance with the expense of a caregiver's air or train-fare that would enable conference participation, please submit a Carer Grant Application Form. For more information on this trial grant program, click here.
Parents of school age children that travel during the school year might arrange for someone to stay with their children at their home, or for their children to stay with friends or family in their districts.
There are a few funds to offset the costs of registration fees, airfare and hotel costs, so that your personal dollars can stretch further on care. Graduate students should ask their major professors if they have funds available to support the traditional participant costs (this is often written into the grants supporting the research in the first place!), and apply for "Travel Reimbursement Grants" through the Graduate Student Association. Faculty may inquire about departmental funds, and submit "Individual Development Award" applications to HR as per directions received by the UUP on-campus union representative. In past years, the Research Office has offered "travel grants" based on level of participation at meetings, opportunities for recruitment, etc-and hopefully they will be able to offer these again in the future. Faculty may also use their "Individual Research Incentive" accounts for expenses that are not allowed under their competitive grants, but since the amount each researcher receives for this is based upon the grant income that researcher brings in, new faculty might not have enough accumulated for this purpose.
If you are looking for someone to stay in your home with your kids, to water your finicky plants, or to check on your beloved pet and administer its medications--ask the office of Financial Aid to list a position, and send an email to the familyResources listserv.
The Forbes Report
In January 2011, the Office of Communications announced that Forbes.com ranked ESF No. 3 on its 2010 list of best colleges for women in science, technology, engineering and mathematics. Are congratulations in order? Maybe. But also note that colleges were ranked solely on a percentage basis on "how closely they approached an ideal where STEM classrooms look like the school overall." It is distinctly possible that because of the nature of ESF's specialized programs, more classes than usual could qualify as STEM, and inflate the numerator in that equation. This is speculation, of course--but we aren't ready to start dismantling programs that benefit STEM women (like the Women's Caucus, and the Office of Multicultural Affairs) just yet. The following year, Playboy rated ESF as the country's overall worst party school (Sept 2012), citing our excellent science program and our student's focus, but also knocking ESF's anonymity in Syracuse despite those features, and the scarcity of "gorgeous girls." They conceded, however, that in little time out of school, ESF alumni would be in leadership positions (i.e., "in 10 years you'll likely be calling an ESF grad 'sir'"--we won't hazard a guess on their opinion of our alumnae).
Is the Pay Gap True?
A SUNY-wide report in 1993 revealed that across the system, only 27% of full professors were women and that salary disparities were significant even after controlling for years of experience and discipline; SUNY ESF was noted for its "unusual dearth of women faculty" (Haignere 1993, cited by Frenette 1999). A follow up report only looked at seven campuses, but found that academic females were still paid less than males at statistically significant levels, and compression is affecting salaries across the seven SUNY institutions they sampled (Burke and Dangler 2009).
Research released in April 2007 by AAUW shows that just one year out of college, women working full time already earn less than their male colleagues, even when they work in the same field. Ten years after graduation, the pay gap widens. Their 2012 update shows very little improvement., and clarifies that the gap is apparent before marriage and children and after controlling for college major, hours of work, and occupation. And over a career, that difference adds up, and significantly impacts retirement plan contributions. In 2017, UUP provided testimony to SUNY regarding salary descrepancies.
There are quite a few that will argue that women just don't negotiate as well as men; there is truth to this. And also that this is because women have learned that [white] men that ask for better salaries are perceived as go-getters; women are pushy (or worse) and people of color are also perceived negatively. And women of color, the most so.
Syracuse University recently (April 2018) found disparity in salaries; ESF's salaries are slated for review. In December 2018, UUP chapters were asked to postpone review of salary equity issues until UUP and and SUNY develop guidelines for such review to ensure both equity and compression are addressed.
Calendar of Events