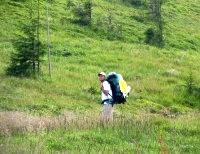 Instructor: Martin Dovciak, Contact Info, Dovciak Lab in Plant Ecology

Class Times: Tu, Th: 9:30-10:50 am; Online Synchronous (2021)

Course Description: This course examines in detail how terrestrial plant communities and ecosystems respond to ongoing global changes in climate, biodiversity, land-use, biogeochemical cycles, and invasions by non-native species. We examine how global environmental change can alter the structure and function of plant communities, their interactions with other ecosystem components (such as herbivores or decomposers), and their effects on ecosystem flows (such as nutrient or water cycles). We will examine how global change affects plant communities and ecosystem processes across a range of spatial and temporal scales — from ecophysiological processes occurring in individual leaves to global patterns of primary productivity and biodiversity. The course lectures include interactive discussion of key research papers in plant ecology and global change. EFB 445 is an undergraduate version and EFB 645 is a graduate version (3 credits). Prerequisite: EFB 320 General Ecology (or similar).
Syllabus (Updated: Spring 2021-02-08)