SHARE: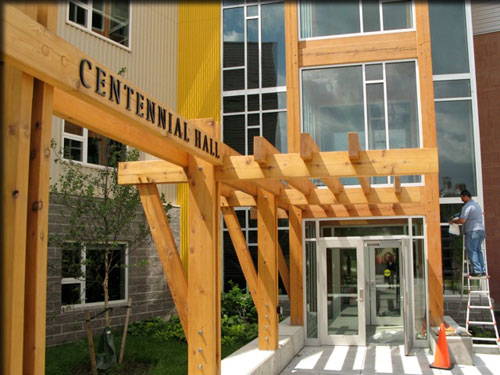 Headline News
Sunday, November 29, 2015
Subscribe (News reader required)
ESF's First Residence Hall Ready for Students
Students to arrive at Centennial Hall Aug. 24

8/23/2011
Students living on campus this year at the SUNY College of Environmental Science and Forestry (ESF) will make history by being the first to enjoy life in a residence hall that was constructed just for them.
Centennial Hall, a $30 million project built in just 16 months at the west end of the ESF campus, will open for business Aug. 24 when ESF students begin moving in.
Centennial Hall is the first in the United States to offer its residents a full line of L. & J.G. Stickley furnishings, custom-designed to provide the College with sustainable hardwood furniture manufactured by a local company.
"It's been an honor to participate on the Centennial Hall project, and very fitting that Stickley's new Campus Collection makes its debut right here in Syracuse at SUNY-ESF," said Edward Audi, executive vice president and owner of the company. "Durable solid-wood construction, flexible configurations, and affordability along with sustainability come together in a collection that will provide decades of service."
Living quarters in the new residence hall, which will house 452 students, contain custom-designed beds, dressers, dining tables and chairs produced by the Manlius-based company. Four student lounges throughout the building are furnished with Stickley's traditional lines of chairs, sofas and tables.
Brenda Greenfield, executive director of the ESF College Foundation Inc., which constructed Centennial Hall, said Stickley's designers worked with the College to provide the flexibility the College wanted in the students' rooms. Students will be able to stack and lock the beds if they want bunk beds, and slats in the headboards can become a ladder for bunk beds. Mattresses can be used at different heights so dressers can go under the beds; the dressers can stack and lock; the desk chairs are adjustable.
"We wanted it to be flexible," Greenfield said. "It's not Stickley's usual line."
In designing the furniture, the College worked with the same interior designer, Laurie Vecchio, who worked on the renovation of the historic Huntington Lodge at the college's Newcomb campus in the central Adirondacks.
The college also wanted the furniture to represents its commitment to sustainability.
"It's a local company, it's hardwood furniture," Greenfield said. "We're really excited about it."
Costs were kept down through the use of red maple harvested from sustainably managed forests in the Allegheny Plateau of Pennsylvania. The maple is a more affordable choice than cherry or oak. Part of the agreement with Stickley provides that craftsmen and technicians will be available to help with repairs if needed.
ESF and Stickley have a history of partnership. Edward Audi is an emeritus member of the ESF College Foundation Inc. Board of Directors and served on the board for the planning of Centennial Hall. Company President Aminy I. Audi is a former member of the State University of New York Board of Trustees.
Centennial Hall, on Oakland Street, was constructed with a focus on sustainability. The residence hall is planned as a silver-certified LEED building. The building's impact on the environment will be reduced by the use of storm water management techniques, sustainable building materials where possible, landscaping that includes native plants and a limited need to mow, extensive indoor bicycle storage facilities and a pedestrian-friendly design.
Office of Communications
SUNY-ESF
122 Bray Hall
1 Forestry Drive
Syracuse, NY 13210
315-470-6644