Sustainability at ESF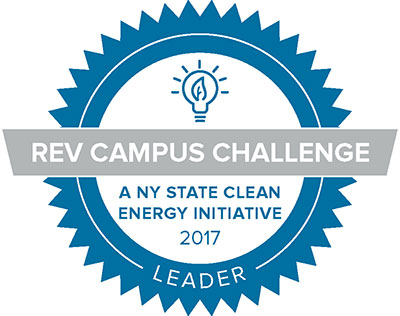 ESF a REV Challenge 'Leader'
ESF has been designated as a "Leader" by the REV Campus Challenge — a NYSERDA program that promotes clean-energy efforts by colleges and universities in New York state.
Sustainability is central to ESF's mission of providing outstanding teaching, research, and outreach programs that foster sustainable communities and environments.
ESF is committed to developing creative and effective solutions to sustainability challenges and adopting holistic practices and approaches that balance environmental, social, economic, and technological factors. This commitment starts with practicing what we teach by exemplifying systems and best pr
actices that improve sustainability on campus, in the local community and beyond.
Grad Student Position Announcement
Starting this fall, a graduate student is needed to work part time with the campus community to improve sustainability at ESF using AASHE STARS. The student will also support sustainability working groups that were formed around the STARS framework, and assist in other duties of greening ESF and practicing what we teach. If interested, or for more information, contact jpheavey@syr.edu.
---
ESF Earns STARS Gold
Sierra Ranks ESF #2
The #2 Green College
---
ESF Sustainability Blog
A Passion for the Earth
Sustainability at ESF is driven by our passionate faculty, staff and students. Campus sustainability projects often intersect with coursework and research, adding synergy and expertise to campus sustainability projects large and small. The Sustainability Office and Sustainability Steering Committee oversees and supports working groups and initiatives related to energy, climate, land, food, transportation, water, materials, communication and engagement. All are invited to participate in these sustainability working groups, the many sustainability initiatives already in action, and bring your own ideas and passions to the table!
Contact
Mark Lichtenstein
Executive Director of Sustainability
Chief of Staff, Office of the President
220 Bray Hall
315-470-4748
malichte@esf.edu
Sustainability on Facebook
Sustainability News
Sustainability Events
No events currently posted.