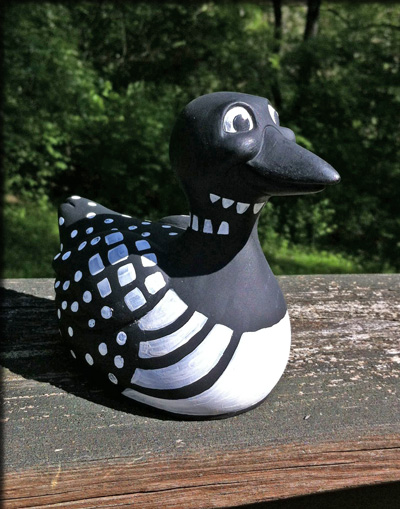 Headline News
Friday, August 28, 2015
Subscribe (News reader required)
World's First Loon Race Highlights AIC Anniversary
After a year as part of SUNY-ESF, the AIC celebrates its success

4/17/2012
The Adirondack Interpretive Center (AIC) will celebrate its first anniversary under the leadership of the SUNY College of Environmental Science and Forestry (ESF) in May with an event focused on the two most iconic symbols of human and natural history in the Adirondacks: loons and logs.
The highlight of the Logs and Loons event will be 3 p.m. Saturday, May 26, when 500 rubber loons - custom-designed and made in the United States and believed to be the world's first loons based on a traditional rubber duck concept - will splash into the Rich Lake Outlet and race to the finish line 400 yards away.
Program Coordinator Paul Hai said the "Loon Drive" will be reminiscent of the log drives that used to clog Rich Lake every spring with harvested trees being transported out of the forest and down the Hudson River to mills in Glens Falls.
The event will be held Saturday of Memorial Day Weekend, which marks the AIC's transition from an abridged winter schedule to summer operation as a seven-day-a-week facility serving visitors from 9 a.m. to 5 p.m. Trails are open dawn to dusk year round.
In its first year under ESF's direction, the AIC has created two new full-time staff positions and expanded programming. The facility, previously operated by the Adirondack Park Agency, nearly closed before ESF took over ownership in 2011.
The Loons and Logs activities begin 10 a.m. May 26 with hour-long programs on logging, a major historic and continuing piece of the Adirondack economy, and on the natural history and science of loons, the distinctive black-and-white birds that have become symbolic of the forest preserve's wilderness. Before and after a break for lunch (participants can bring their own or visit Newcomb's diner), the ESF Woodsmen's Team will provide a demonstration of traditional logging skills.
The Loon Drive will begin at 3 p.m., when the loons drop into the outlet and float from the west bridge to the east bridge across the Rich Lake Outlet. Spectators can watch from the bridges and the south side of the Sucker Brook Trail loop. Cash and other prizes will be awarded to those who sponsored the winning loons. The proceeds will support educational programs at the AIC.
Another Woodsmen's Team demonstration will be held after the race and the day will conclude at 5 p.m. with a reception.
The one-of-a-kind rubber loons are available for sponsorship in the race and a limited number will be available for purchase. Those wishing to sponsor and/or purchase a loon or obtain more information can visit www.esf.edu/forms/aec/loons.asp. Anyone with additional questions about the Logs and Loons celebration can contact Rebecca Oyer at royer@esf.edu or 518-582-2000.
North Country Public Radio is the media sponsor for the Logs and Loons event.
Office of Communications
SUNY-ESF
122 Bray Hall
1 Forestry Drive
Syracuse, NY 13210
315-470-6644