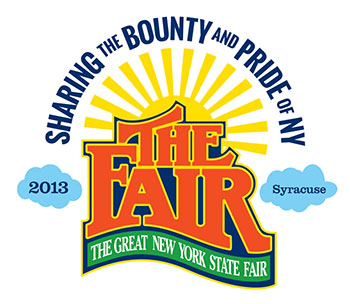 Headline News
Wednesday, October 7, 2015
Subscribe (News reader required)
ESF Stages Exhibits at New York State Fair
College helps tell story of Onondaga Lake, provides hands-on science

8/20/2013
The SUNY College of Environmental Science and Forestry (ESF) will have a presence at three venues at the 2013 New York State Fair.
ESF will help tell the story of Onondaga Lake's transformation at a new exhibit that will show fairgoers how coordinated remediation efforts between state and local partners at Onondaga Lake is changing the region and providing for future economic vitality. The exhibit, called "Onondaga Lake: A Fresh Gateway to aNew New York," will occupy more than 3,000 square feet of space in the Center of Progress Building.
"The students and faculty of ESF have been studying the Onondaga Lake ecosystem for nearly three decades," said Cornelius B. Murphy, Jr., ESF president. "The future of the lake and its watershed is bright, with stabilization of the waste beds, increased diversity of aquatic and shoreline plants, fishes and many kinds of invertebrates such as crayfish and dragonflies. Dissolved oxygen levels in the lake have increased, ammonia levels are low and aquatic vegetation now covers 80 percent of the shallow water zone. Shoreline trails, enhanced marina facilities and reduced toxic materials are all part of a remarkable recovery. The positive interaction of the many stakeholders and contributors has been phenomenal, and all have worked together tirelessly to restore this local and national treasure."
The exhibit will take visitors on the lake's long journey from its ancient role as the home of the Haudenosaunee people through the remediation effort now underway on the lake to the developments on its shoreline such as Destiny USA and the upcoming Inner Harbor project.
Fairgoers will be able to see the fish species that are returning to the lake as it improves. They'll discover that the return of the fish has helped to bring back the bald eagle to the area and, if they've spotted an eagle recently, they can contribute to a project that will map the places it has been spotted.
ESF will also be in its traditional spot in the New York State Parks at the State Fair area. Throughout the fair run, faculty, students and staff from various departments will be at the ESF tent providing hands-on science activities for fairgoers both young and young at heart.
Exhibiting ESF departments are the Office of Research Programs, Aug. 22 and 23; the Department of Environmental Resources Engineering, Aug. 24 and 25; the Department of Forest and Natural Resources Management, Aug. 26; the Department of Environmental and Forest Biology, Aug. 27; the Department of Paper and Bioprocess Engineering, Aug. 28; the Department of Chemistry, Aug. 29, the Department of Outreach.
The ESF tent will feature environmentally friendly arts & crafts, Aug. 31 and Sept. 1 and 2.
ESF's mascot Oakie will make an appearance at the SUNY tent, located outside the Dairy Building, Aug. 30.
The New York State Fair runs from Aug. 22 through Sept. 2.
Office of Communications
SUNY-ESF
122 Bray Hall
1 Forestry Drive
Syracuse, NY 13210
315-470-6644