ESF Students
Graduation
Commencement Weekend 2013 is May 11-12.
Summer Session 2013
Finish general education requirements, retake a class or explore something new. Housing available in Centennial Hall.
Adirondack Residential Semester
Earn 15 credits while living and learning at ESF's Newcomb Campus—open to sophomores, juniors and seniors.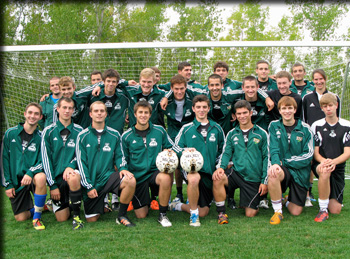 ESF Students
Chemistry Senior Receives ACS Award
Congratulations to SUNY-ESF Chemistry Senior, John Richardson - recipient of the American Chemical Society Undergraduate Student Award in Environmental Chemistry. This award recognizes outstanding students currently enrolled in a United States education institution in chemistry, environmental engineering, environmental science or other program emphasizing environmental chemistry.
ESF Student Named Scholar Athlete
ESF student Zachary Kalette has received the Chancellor's Scholar Athlete Award. Kalette, a member of ESF's basketball team, is a senior in the college's five-year landscape architecture program. He is a resident of Fayetteville, N.Y.
College Begins Expansion of Centennial Hall
ESF has embarked on a project to expand its first residence hall, Centennial Hall, in a response to student interest that has kept the building at capacity for its first two years. A five-story, 84-bed addition will be constructed on the west end of the residence hall.
High-tech, Remote-controlled Vessels Gather Data in Lake Ontario
Dr. Gregory Boyer is participating this week in a project that launches two autonomous underwater vehicles (AUVs) in Lake Ontario to produce intensive data for analysis of nearshore-offshore interactions, fish productivity, changes to the lower food web and algal abundance.
And They're Off: Graduates Move on to New Lives
Careers, interships and new ways to learn await the newest ESF graduates who celebrated their accomplishments May 11 and 12.
Honoree Sets Path for Grads to Improve Their World
Sandra Steingraber was a natural choice to receive an honorary degree from ESF. Steingraber, an ecologist, author and cancer survivor has been heralded as "the new Rachel Carson'' by the Sierra Club. The scholar in residence at Ithaca College is at the forefront of the clean energy and anti-fracking movement in New York state. She is recognized around the world as a leading authority on the environment and the role it plays in cancer and human health.
Dr. Thomas Amidon Honored as ESF Exemplary Researcher
Dr. Thomas Amidon has been honored with the SUNY College of Environmental Science and Forestry's (ESF) Exemplary Researcher Award.
Featured Student Events
New Student Ice Cream Social
Sunday, August 25, 2013, 3:00 pm - 4:30 pm. On the Quad or in the Gateway Center.
Alumni & Family Fall BBQ Weekend 2013
October 4 - 5, ESF Campus. Event Website