The AIC on Facebook—visit and "like" our page!
The Center for Nature Interpretation in the Adirondacks
AIC Hosts Adk Fly Fishing Retreat Sept 12-14
The AIC is excited to be hosting an Adirondack Fly Fishing Retreat the second weekend in September. The multi-day workshop will be led by local and licensed Adirondack guide Rick Kovacs and will include fishing excursions to sites nearby. Not only will participants explore and practice various fly fishing techniques but will also learn the natural science underpinning the sport.
Interested in attending or looking for more information? Check out the workshop's flyer and tentative schedule. Call or email to register!
Essex Chain of Lakes Campsite Reservations
The AIC is partnering with the NYS DEC in administering the permiting system for the campsites in the new Essex Chain of Lakes Tract.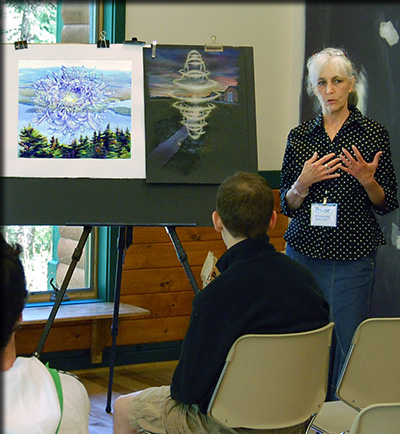 AIC's 1st Artist-in-Residence
We are so glad to have Frances Gaffney as our first ever summer Artist-in-Residence!
Throughout the summer, she will be working onsite, creating beautiful and thoughtful pieces inspired by the local landscape. Her work will be on display all summer at the AIC. She can be found along the trails on Sundays - stop by to chat and observe Frances as she draws and paints.
Want to explore your own personal artistic abilities and style? Frances will be leading drawing and watercolor workshops on the last Saturday of every month. For more information, visit our programs page.
Frances will be leading a Watercolor Workshop on Saturday, August 30th. More information here.
Stay in touch with Frances via our blog where she will be frequently posting on her work and experience this summer!
Coming Soon: Northern Forest Room
We are excited to announce the renovation of the AIC's exhibit room! The new exhibit will include three-dimensional and interactive displays on the natural and cultural history of the Northern Forest and Adirondack Park.
The Adirondack Interpretive Center (AIC) offers outstanding learning opportunities in the heart of the Adirondack Park—New York's unique natural, cultural and recreational resource. Managed by the SUNY College of Environmental Science and Forestry (ESF), the AIC serves thousands of visitors, local residents and program participants each year.
Visit the AIC as you explore the Adirondacks:
Relax in our lobby with views of the surrounding forest and enjoy the birds at our feeders.
Speak with a staff naturalist.
Explore trails through lakeshore, river, forest and wetland ecosystems.
Educational Programs & Facilities
The AIC offers public programs, events, speaker series, courses and other activities throughout the year to the public as well as school groups. AIC programs provide individuals and groups with opportunities to learn directly from ESF faculty and staff members and guest experts.
ESF's extensive Adirondack facilities provide sites for classes, meetings, conferences and multi-day residential programs.
Accessibility
Most AIC facilities and programs are wheelchair accessible. Contact us for details.
AIC Hours
Trails
open every day, dawn to dusk
Center building
open every day, 9am-5pm (may be closed occasionally - call to confirm)
Contact the AIC
5922 State Route 28N
Newcomb, NY 12852
518-582-2000
aic@esf.edu
Formerly known as the Newcomb Visitor Interpretive Center and administered by the Adirondack Park Agency, the AIC is now a branch of SUNY-ESF's Northern Forest Institute.
Essex Chain Camping Photo credit: ęCarl Heilman II, provided courtesy of The Nature Conservancy - Adirondack Chapter