Reconnecting to Nature
Adirondack Interpretive Center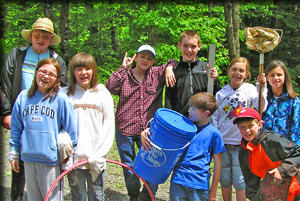 There is broad awareness of, interest in and scientific support for increasing children's exposure to nature. Many efforts are underway nation-wide to create a fundamental societal shift towards increasing the value given children's need to interact with nature. From formal inclusion in an educational environment to unstructured outdoor play time, the positive effects of increased exposure to nature are being recognized in improved physical, emotional and psychological health, academic performance, and quality of life.
There are many organizations, institutions, agencies, and individuals working passionately at all levels to ensure children have access to nature, whether in an urban, suburban, rural or wilderness setting.
This page provides links to help you learn about what Richard Louv called "Nature Deficit Disorder" in his 2005 book Last Child in the Woods, and to help you reconnect your child, or yourself to nature.
Children in Nature, New York (CiNNY) Partners
Resources
Resources for kids!
Opportunities