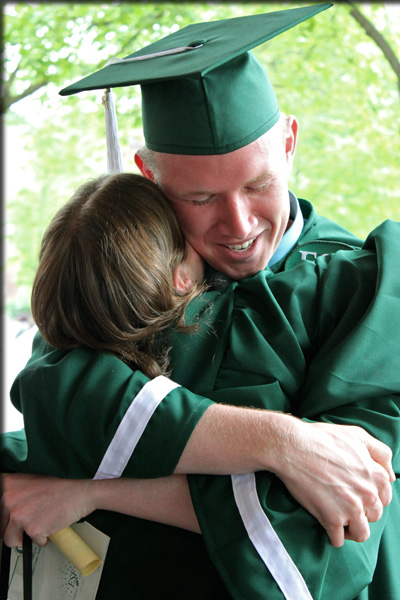 ESF College Bookstore

(formerly Small Stores)
Order the same items you'll find on campus: clothes, hats, mugs, outerwear, gifts, and much more!

Revisit our Centennial Celebration website
for stories and images of ESF's past.
Contact Us
Alumni Association
SUNY-ESF
1 Forestry Drive
219 Bray Hall
Syracuse, NY 13210
315-470-6632
Fax: 315-470-4833
alumni@esf.edu
Join the conversation on the new ESF Alumni Twitter feed today!
Welcome
The SUNY-ESF Alumni Association has served ESF alumni since 1925. Association programs attract the support and participation of our more than 19,000 alumni. We look forward to serving you and welcome your suggestions for the future. Contact us at alumni@esf.edu.
Upcoming Alumni Events
"Meet the President" Alumni Reception - Saratoga Springs
Thursday, April 17, 2014, 5:30 pm - 7:30 pm. Longfellows Restaurant - Saratoga Springs, NY. "Meet the President" Invitation - Saratoga Springs
Class of 2014 Champagne Toast
Wednesday, May 7, 2014, 4:00 pm - 4:30 pm. Gateway Center. Follow on Twitter for May 7 ChampagneShoutOut2014!
Adirondack Luncheon with SUNY-ESF President Wheeler
Thursday, May 15, 2014, 12:00 pm - 3:00 pm. High Peaks Resort: Lake Placid - Optional Behind the Scenes Wild Center Tour @ 1:30pm in Tupper Lake. Luncheon & Optional Tour Invitation
"Meet the President" Alumni Reception - Metropolitan NY
Thursday, June 12, 2014, 5:30 pm - 7:30 pm. SUNY Global Center - New York, NY. "Meet the President" Invitation- Metro NY
21st Annual ESF Golf Tournament
Thursday, August 7, 2014, McConnellsville Golf Club, Blossvale, New York. 21st Annual ESF Golf Tournament Details
Senior Reunion and Alumni & Family Fall BBQ Weekend
October 9 - 11, SUNY-ESF Campus. Overnight Accommodations with Group Rates
SAF National Convention Alumni Reception
Thursday, October 9, 2014, 7:00 pm - 9:00 pm. Salt Lake City, UT.
ASLA National Convention Alumni Reception
Friday, November 21, 2014, Denver, CO.
News of Interest
Bridge Street covers SUNY-ESF Earth Week

(New Channel 9 covered Earth Week and the Student Spotlight on Research today, filming live from the SUNY-ESF Gateway Center. Click through to watch. 4/15/14) READ MORE

SUNY-ESF and CNY Section of American Chemical Society Co-Host Presentation by Dr. Stephen Cantor

("The presentation, entitled "UV Curing Technology: A Route to Solvent-Free Adhesives and Coatings", was presented to a live audience in Syracuse, NY at SUNY-ESF's Gateway Center, and was simulcast as a live webinar for participants nationally and internationally." 4/15/14) READ MORE

Daily Orange: SUNY-ESF Alumnus' estate gives largest donation in school's history

("The estate of Raymond M. and Rita J. Smith gave the $2.4 million donation, which will fund student scholarships, according to an April 8 SUNY-ESF news release." 4/14/14) READ MORE

Daily Orange: Professor, students present findings on Syracuse's deer population

("After conducting extensive research, a SUNY-ESF professor handed Syracuse residents the hard truth about the city's problematic white-tailed deer." 4/14/14) READ MORE

SUNY-ESF Celebrates Earth Week with Music Video

ESF introduces a music video called "Thank the Earth" to kick off Earth Week.