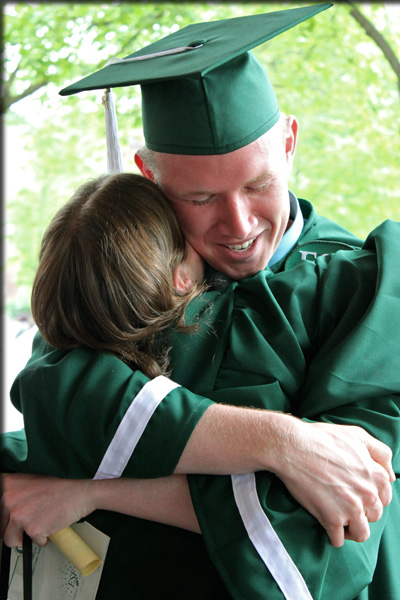 ESF College Bookstore

(formerly Small Stores)
Order the same items you'll find on campus: clothes, hats, mugs, outerwear, gifts, and much more!

Revisit our Centennial Celebration website
for stories and images of ESF's past.
Contact Us
Alumni Association
SUNY-ESF
1 Forestry Drive
219 Bray Hall
Syracuse, NY 13210
315-470-6632
Fax: 315-470-4833
alumni@esf.edu
Join the conversation on the new ESF Alumni Twitter feed today!
Welcome
The SUNY-ESF Alumni Association has served ESF alumni since 1925. Association programs attract the support and participation of our more than 19,000 alumni. We look forward to serving you and welcome your suggestions for the future. Contact us at alumni@esf.edu.
Upcoming Alumni Events
Class of 2014 Champagne Toast
Wednesday, May 7, 2014, 4:00 pm - 4:30 pm. Gateway Center. Follow on Twitter for May 7 ChampagneShoutOut2014!
Adirondack Luncheon with SUNY-ESF President Wheeler
Thursday, May 15, 2014, 12:00 pm - 3:00 pm. High Peaks Resort: Lake Placid - Optional Behind the Scenes Wild Center Tour @ 1:30pm in Tupper Lake. Luncheon & Optional Tour Invitation
"Meet the President" Alumni Reception - Metropolitan NY
Thursday, June 12, 2014, 5:30 pm - 7:30 pm. SUNY Global Center - New York, NY. "Meet the President" Invitation- Metro NY
21st Annual ESF Golf Tournament
Thursday, August 7, 2014, McConnellsville Golf Club, Blossvale, New York. 21st Annual ESF Golf Tournament Details
Senior Reunion and Alumni & Family Fall BBQ Weekend
October 9 - 11, SUNY-ESF Campus. Overnight Accommodations with Group Rates
SAF National Convention Alumni Reception
Thursday, October 9, 2014, 7:00 pm - 9:00 pm. Salt Lake City, UT.
ASLA National Convention Alumni Reception
Friday, November 21, 2014, Denver, CO.
News of Interest
ESF Gateway Center among Top 10 for Sustainable Architecture

The American Institute of Architects (AIA) has selected the Gateway Center at the SUNY College of Environmental Science and Forestry (ESF) as one of the nation's top 10 sustainable architecture and ecological design projects that protect and enhance the environment.

Going Green: NYSEFC makes funding available for water improvement projects

(This week's Going Green segment is about project funding available through the New York State Environmental Facilities Corporation. Click to watch. 4/21/14) READ MORE

Students Hone Skills in Public Speaking Lab

ESF's first Public Speaking Lab (PSL) opened this spring to assist students with presentation and communication skills. Located in 13-B Moon Library, the free resource allows students to reserve a private space to practice and record any type of presentation.

Syracuse.com: will this cold winter kill off ticks and mosquitos?

(Alas, entomologist Kim Adams says no. 4/18/14) READ MORE

AIA honors Gateway Center as one of 2014 Top Ten Projects

(The AIA has recognized the Gateway Center as one of the nation's top ten sustainable projects for 2014, including a beautiful spread and detailed information on the building. 4/14) READ MORE