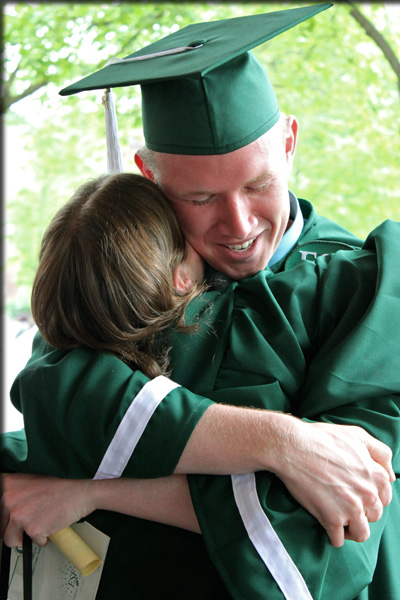 ESF College Bookstore

(formerly Small Stores)
Order the same items you'll find on campus: clothes, hats, mugs, outerwear, gifts, and much more!

Revisit our Centennial Celebration website
for stories and images of ESF's past.
Contact Us
Alumni Association
SUNY-ESF
1 Forestry Drive
219 Bray Hall
Syracuse, NY 13210
315-470-6632
Fax: 315-470-4833
alumni@esf.edu
Join the conversation on the new ESF Alumni Twitter feed today!
Welcome
The SUNY-ESF Alumni Association has served ESF alumni since 1925. Association programs attract the support and participation of our more than 19,000 alumni. We look forward to serving you and welcome your suggestions for the future. Contact us at alumni@esf.edu.
Upcoming Alumni Events
ESF Night at the Crunch
Saturday, March 29, 2014, 5:30 pm - 10:00 pm. Onondaga County War Memorial. Crunch Flyer
Central New York Dinner
Thursday, April 10, 2014, 4:00 pm - 9:00 pm. Genesee Grande Hotel. CNY DINNER DETAILS, INVITATION, & RESPONSE FORM
Class of 2014 Champagne Toast
Wednesday, May 7, 2014, 4:00 pm - 4:30 pm. Gateway Center. Follow on Twitter for May 7 ChampagneShoutOut2014!
21st Annual ESF Golf Tournament
Thursday, August 7, 2014, McConnellsville Golf Club, McConnellsville, New York.
Senior Reunion and Alumni & Family Fall BBQ Weekend
October 9 - 11, SUNY-ESF Campus. Overnight Accommodations with Group Rates
SAF National Convention Alumni Reception
Thursday, October 9, 2014, 7:00 pm - 9:00 pm. Salt Lake City, UT.
ASLA National Convention Alumni Reception
Friday, November 21, 2014, Denver, CO.
News of Interest
Onondaga County clears out weak ash trees to prepare for emerald ash borer

(Melissa Fierke is quoted in this story on Onondaga County's plan to remove unhealthy ash trees and combat the emerald ash borer. 3/7/14) READ MORE

Area college students could hold the key to making energy-efficient homes affordable.

Students from ESF, Onondaga Community College and Syracuse University are collaborating to design an energy-efficient affordable house based on the median family income of the area. They are participating in the Challenge Home Student Design competition sponsored by the Department of Energy (DOE) and the National Association of Homebuilders.

Chemistry professor publishes in Nature Geoscience

Dr. David J. Kieber is part of a team that published a paper in the journal "Nature Geoscience." The paper is titled, "Contribution of sea surface carbon pool to organic mater enrichment in sea spray aerosol." The paper was published online Feb. 27, 2014. READ MORE

Kieber, students to present at international symposium in May

Dr. David J. Kieber of the Department of Chemistry, and graduate students Inger Tyssebotn and Joanna Kinsey, will present research results at the 6th International Symposium on biological and environmental chemistry of DMS(P) and related compounds. The conference will be May 26 through 30, 2014, at the Institut de Ciències del Mar (ICM-CSIC), Barcelona, Spain.

SUNY RF grant funds research at Cranberry Lake

Dr. David J. Kieber and a colleague have received a $29, 810, two-year grant from the Collaboration Fund of the SUNY Research Foundation to conduct a gas flux study at the Cranberry Lake Biological Station. They will assess factors that regulate fluxes of carbon dioxide from lake waters into the atmosphere. Keiber is working with Dr. Scott Miller of SUNY Albany.