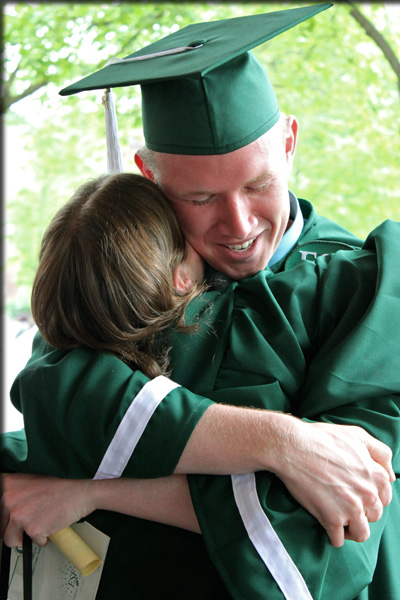 ESF College Bookstore

(formerly Small Stores)
Order the same items you'll find on campus: clothes, hats, mugs, outerwear, gifts, and much more!

Revisit our Centennial Celebration website
for stories and images of ESF's past.
Contact Us
Alumni Association
SUNY-ESF
1 Forestry Drive
219 Bray Hall
Syracuse, NY 13210
315-470-6632
Fax: 315-470-4833
alumni@esf.edu
Join the conversation on the new ESF Alumni Twitter feed today!
Welcome
The SUNY-ESF Alumni Association has served ESF alumni since 1925. Association programs attract the support and participation of our more than 19,000 alumni. We look forward to serving you and welcome your suggestions for the future. Contact us at alumni@esf.edu.
Upcoming Alumni Events
ESF Night at the Crunch
Saturday, March 29, 2014, 5:30 pm - 10:00 pm. Onondaga County War Memorial. Crunch Flyer
Central New York Dinner
Thursday, April 10, 2014, 4:00 pm - 9:00 pm. Genesee Grande Hotel. CNY DINNER DETAILS, INVITATION, & RESPONSE FORM
Class of 2014 Champagne Toast
Wednesday, May 7, 2014, 4:00 pm - 4:30 pm. Gateway Center. Follow on Twitter for May 7 ChampagneShoutOut2014!
21st Annual ESF Golf Tournament
Thursday, August 7, 2014, McConnellsville Golf Club, McConnellsville, New York.
Senior Reunion and Alumni & Family Fall BBQ Weekend
October 9 - 11, SUNY-ESF Campus. Overnight Accommodations with Group Rates
SAF National Convention Alumni Reception
Thursday, October 9, 2014, 7:00 pm - 9:00 pm. Salt Lake City, UT.
ASLA National Convention Alumni Reception
Friday, November 21, 2014, Denver, CO.
News of Interest
Alumnus Joins Advisory Board of American Forests

An alumnus of the SUNY College of Environmental Science and Forestry (ESF) has been named to the Science Advisory Board of American Forests, the oldest national conservation organization in the United States.

Trailhead Café: Food to Go in Boxes to Return

The staff at ESF's popular, year-old eatery, the Trailhead Cafe, has devised a way for its customers to enjoy a meal and, at the same time, reduce their impact on the environment.

Energy, Construction Experts to Speak at Green Building Conference

The 12th Annual Green Building Conference sponsored by the SUNY College of Environmental Science and Forestry (ESF) will feature presentations by experts in the fields of renewable energy and home construction.

Catteraugus Co. and SUNY-ESF Look To Team Up On New Wood Technologies

(Research into new methods and products for wood and wood byproducts might give an economic shot in the arm of Cattaraugus County and the rest of the western Southern Tier. 3/6/14) READ MORE

ESF's Environmental Challenge to Take Over Carrier Dome

Seven hundred students from 10 middle schools in the City of Syracuse will participate in the Environmental Challenge science fair sponsored by the SUNY College of Environmental Science and Forestry March 13.