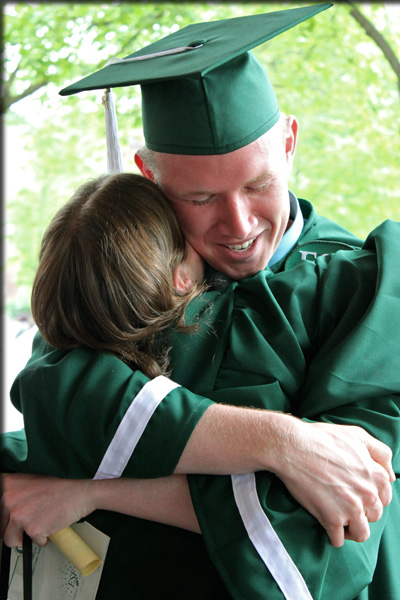 ESF College Bookstore

(formerly Small Stores)
Order the same items you'll find on campus: clothes, hats, mugs, outerwear, gifts, and much more!

Revisit our Centennial Celebration website
for stories and images of ESF's past.
Contact Us
Alumni Association
SUNY-ESF
1 Forestry Drive
219 Bray Hall
Syracuse, NY 13210
315-470-6632
Fax: 315-470-4833
alumni@esf.edu
Join the conversation on the new ESF Alumni Twitter feed today!
Welcome
The SUNY-ESF Alumni Association has served ESF alumni since 1925. Association programs attract the support and participation of our more than 19,000 alumni. We look forward to serving you and welcome your suggestions for the future. Contact us at alumni@esf.edu.
Upcoming Alumni Events
ESF Alumni Association Basketball Reception
Saturday, January 18, 2014, 2:30 pm - 4:00 pm. Alumni Lounge, Marshall Hall. http://www.esf.edu/alumni/bball.pdf
NYS SAF Annual Meeting and Alumni Reception
Thursday, January 23, 2014, 6:30 pm - 8:00 pm. Doubletree Hotel, Carrier Circle.
News of Interest
Powell Named Forest Biotechnologist of the Year

Dr. William A. Powell, a professor and director of the Council on Biotechnology in Forestry at ESF, has been named 2013 Forest Biotechnologist of the Year by the Institute of Forest Biotechnology (IFB).

ESF Students Score with SU Quidditch Team

If you've read or seen any of the Harry Potter series of books or movies, you are familiar with Quidditch, a wizarding-world team sport played on magical broomsticks that allow players to fly through the air to make goals and score. While Harry Potter plays for his house team of Gryffindor, ESF students play the international college club sport with Syracuse University (SU) students on the SU Quidditch team.

From News Channel 9: Outgoing SUNY ESF President reflects

("Syracuse (WSYR-TV) - Outgoing SUNY ESF President Neil Murphy sits down with NewsChannel 9's Jeff Kulikowsky to reflect on his tenure." 12/6/13) READ MORE

ESF Celebrates December Convocation

Dr. Cornelius B. Murphy, Jr., presided over his 27th and final commencement as president of the SUNY College of Environmental Science and Forestry (ESF) Friday, Dec. 6.

YNN covers the tribute to President Murphy

("People gathered to honor retiring SUNY ESF President Neil Murphy at an event Thursday. Lieutenant Governor Robert Duffy was one of many dignitaries." 12/6/13) READ MORE