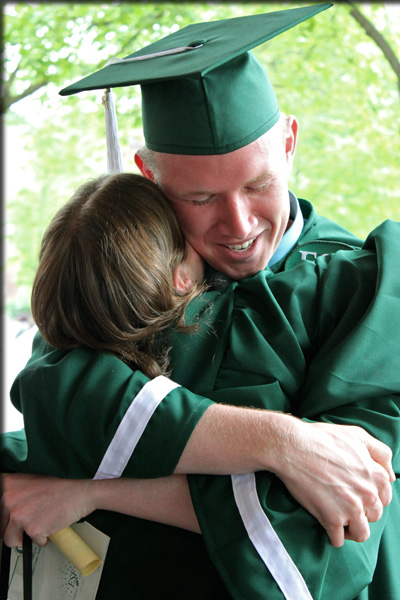 ESF College Bookstore

(formerly Small Stores)
Order the same items you'll find on campus: clothes, hats, mugs, outerwear, gifts, and much more!

Revisit our Centennial Celebration website
for stories and images of ESF's past.
Contact Us
Alumni Association
SUNY-ESF
1 Forestry Drive
219 Bray Hall
Syracuse, NY 13210
315-470-6632
Fax: 315-470-4833
alumni@esf.edu
Join the conversation on the new ESF Alumni Twitter feed today!
Welcome
The SUNY-ESF Alumni Association has served ESF alumni since 1925. Association programs attract the support and participation of our more than 19,000 alumni. We look forward to serving you and welcome your suggestions for the future. Contact us at alumni@esf.edu.
Upcoming Alumni Events
ESF Alumni Association Basketball Reception
Saturday, January 18, 2014, 2:30 pm - 4:00 pm. Alumni Lounge, Marshall Hall. http://www.esf.edu/alumni/bball.pdf
NYS SAF Annual Meeting and Alumni Reception
Thursday, January 23, 2014, 6:30 pm - 8:00 pm. Doubletree Hotel, Carrier Circle.
News of Interest
EPA Awards $345,000 to Protect Wetlands in New York

The U.S. Environmental Protection Agency has awarded more than $345,000 to the New York State Adirondack Park Agency and the SUNY College of Environmental Science and Forestry to better protect wetlands throughout the state and identify strategies to deal with New York's changing climate.

Rosen Fellowships Take ESF Students into the Field

ESF sent its first Rosen Fellows into the field during the summer of 2013 to work on projects ranging from mining-related water quality to medical ethnobotany from a female perspective.

EPA funding to protect wetlands, collect environmental data in NY state

("The College of Environmental Science and Forestry, in partnership with the New York Natural Heritage Program, will also use a $172,070 grant to assess the status of plants found in wetlands throughout the state." 12/10/13) READ MORE

Syracuse.com covers Bill Powell's recognition as Forest Biotechnologist of the Year

("In addition to American chestnut, Powell has advanced research on American elm and hybrid poplar. His work has been widely cited, with more than 200 citations from 2007 to 2011. Earlier this year, Powell presented at the National Geographic sponsored TEDxDeextinction conference." 12/10/13) READ MORE

Powell Named Forest Biotechnologist of the Year

Dr. William A. Powell, a professor and director of the Council on Biotechnology in Forestry at ESF, has been named 2013 Forest Biotechnologist of the Year by the Institute of Forest Biotechnology (IFB).