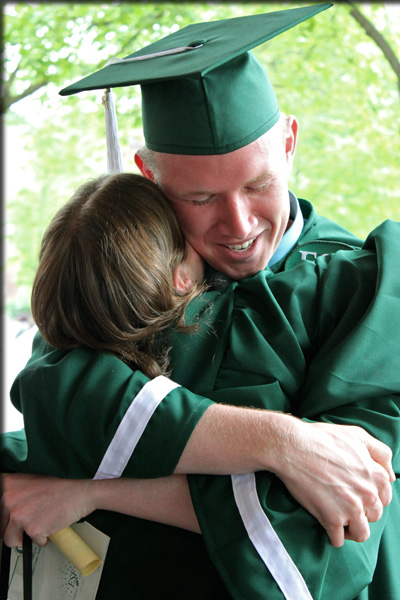 ESF College Bookstore

(formerly Small Stores)
Order the same items you'll find on campus: clothes, hats, mugs, outerwear, gifts, and much more!

Revisit our Centennial Celebration website
for stories and images of ESF's past.
Contact Us
Alumni Association
SUNY-ESF
1 Forestry Drive
219 Bray Hall
Syracuse, NY 13210
315-470-6632
Fax: 315-470-4833
alumni@esf.edu
Welcome
The SUNY-ESF Alumni Association has served ESF alumni since 1925. Association programs attract the support and participation of our more than 19,000 alumni. We look forward to serving you and welcome your suggestions for the future. Contact us at alumni@esf.edu.
Upcoming Alumni Events
ESF Annual Golf Tournament
Thursday, August 8, 2013, 10:00 am - 8:00 pm. McConnellsville Golf Club, Blossvale, NY.
Cranberry Lake Reunion
August 9 - 11, Cranberry Lake Biological Station.
New Student Ice Cream Social
Sunday, August 25, 2013, 3:00 pm - 4:30 pm. On the Quad or in the Gateway Center.
Senior Reunion & Alumni & Family Fall Weekend
October 3 - 5, SUNY-ESF Campus. Event Website
Alumni & Family Fall BBQ Weekend 2013
October 4 - 5, ESF Campus. Event Website
SAF National Convention Alumni Reception
Thursday, October 24, 2013, 6:30 pm - 8:30 pm. Charleston, SC.
ASLA National Convention Alumni Reception
Friday, November 15, 2013, Boston, MA.
News of Interest
ESF, Upstate Receive Technology Accelerator Award

ESF and Upstate Medical University were among the five SUNY colleges to receive funding from the SUNY Technology Accelerator Fund, which supports innovation by providing funding to accelerate development and commercialization.

ESF College Foundation Honors Miller for Teaching Achievement

Anthony J. Miller, an instructor in the SUNY College of Environmental Science and Forestry's (ESF) Department of Landscape Architecture, has received the 2013 ESF College Foundation Award for Exceptional Achievement in Teaching.

ESF Cheers for Student Athletes

ESF celebrated the success of its athletic teams this spring with a capacity crowd at a banquet held in the college's new Gateway Center.

ESF Alumnus Inducted into NGA Hall of Fame

The National Geospatial-Intelligence Agency (NGA) has inducted SUNY-ESF graduate Curtis B. Ward '72 into its Hall of Fame.

Germain's Research Focuses on Working Forests

Rene Germain's ambition is to help people and working forests. He conducts applied research that keeps him in the woods and working closely with the very forest practitioners who benefit from his research findings.