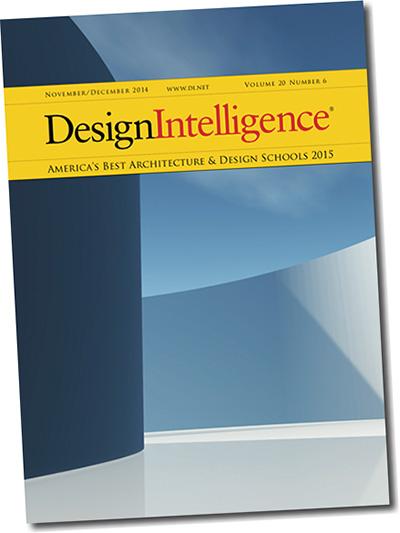 Did you know...
DesignIntelligence ranks ESF's LA undergraduate program at #15 in the U.S. and #3 in the east. The grad program also comes in at #13 nationally.
The Federal Bureau of Labor Statistics projects that demand for landscape architecture services will grow by over 14% by 2022!
Both the BLA and MLA programs are accredited by the Landscape Architecture Accreditation Board.
Giving to Landscape Architecture
Landscape Architecture Department Funds
Department funds provide support for student and faculty enrichment. Your contributions play an integral role in our continued success.
LA Events
Advising for Fall 2015
March 30 - April 3,
A Career and Urban Forestry Chat with David Moore
Monday, March 30, 2015, 10:00 am - 12:00 pm. The Gateway Center - Southeand Concourse Area.
Blackboard Gradebook - Moon Library Skill Sharpener Series
Monday, March 30, 2015, 12:45 pm - 1:30 pm. 314 Baker.
Environmental Studies Seniors Showcase
Monday, March 30, 2015, 4:00 pm - 6:00 pm. ESF Alumni Lounge, Marshall Hall.
LA News
Phys.org: Study maps development, one county at a time
("Researchers at the SUNY College of Environmental Science and Forestry (ESF) have developed a county-by-county map of the United States' "lower 48" that tells a story of land cover and development across the nation, and could provide a framework for planners and policy makers as they consider future development." 3/25/15) READ MORE
USGBC: A bright future in sustainability at SUNY-ESF
(The USGBC reports on last week's talk by CEO Rick Fedrizzi to ESF's Sustainable Energy Club. 3/20/15) READ MORE
U Buffalo News: Students start construction on solar house that makes twice the energy it uses
(A cross-SUNY team including ESF's Department of Landscape Architecture is building a solar house to compete in the U.S. Department of Energy Solar Decathlon. 3/16/15) READ MORE
WAER: Design Firm Selected for New Look for Perseverance Park in Downtown Syracuse
(George Curry was interviewed for a story about a new look for Perseverance Park in downtown Syracuse. 3/9/15) READ MORE
The Department of
Landscape Architecture
Since 1911 the Landscape Architecture program at SUNY-ESF has been educating practitioners and teachers, designers and planners, advocates and policy makers who have devoted careers to a viable, sustainable integration of natural and cultural communities.
The Department of Landscape Architecture offers three degree programs designed to educate students to contribute in varied ways to society and the wise use of land and landscape. Each provides a basis for students to establish career directions in the profession of landscape architecture. The bachelor and master of landscape architecture, and master of science degrees are offered. Qualified undergraduate students may apply for the combined B.L.A./M.S. fast-track option.
The quality of a student's professional development is monitored in part by a requirement that a grade of C or higher be earned to progress to the next studio.
Proficiency with computers and associated design software is essential to the success of students in the landscape architecture curriculum. Students are required to purchase a laptop computer with appropriate software by the beginning of the fall semester of the sophomore year and are expected to carry them to studio. Equipment guidelines are available from the Department of Landscape Architecture. Anticipated costs for computing equipment (hardware and software) may be between $2,000 and $3,000 over the course of the student's tenure at ESF.
Size and Diversity of Faculty
The SUNY-ESF program is one of the largest in the United States, with 20 full-time and part-time faculty. Faculty interests range from materials and construction to regional planning, from ecological planning to urban design, from theoretical landscapes to historic preservation.
Areas of Study
The large and diverse faculty offer not only a wide range of foundation courses necessary for professional preparation, but also four strong areas of study that encourage in-depth exploration in ecological design and planning, community design and planning, and cultural landscape conservation.
Relationship to Syracuse University
SUNY-ESF and Syracuse University reside on the same campus together. Students at SUNY-ESF may take courses from Syracuse University at no additional cost. This allows each institution to contribute to the programs of the other. As a result, students in landscape architecture not only benefit from the broad range of environmental science programs at SUNY-ESF, but also from the architecture, interior design, visual and performing arts, geography, anthropology, art history, foreign languages, and other programs at Syracuse University.
International Connections
Since 1970 the Landscape Architecture program has required a semester of off campus study for BLA candidates, and graduate students are strongly encouraged to take advantage of this program as well. The Department of Landscape Architecture is well traveled and has developed long-term contacts throughout Europe, Latin America, East Asia, and elsewhere. In recent years, graduate students have conducted independent research in Switzerland, Russia, Italy, Mexico, Czechoslovakia, Wales, Northern Ireland, Indonesia, Spain, and Canada.
VIDEO: "I want to be a Landscape Architect..."