Environmental Philosophy Program
Dr. Marianne Patinelli-Dubay leads NFI's program in Environmental Philosophy which supports and facilitates rich conversations across a range of disciplines.
Educational initiatives in this program are intended to bridge humanities content with HWF-specific field knowledge and experience in order to understand the impacts of ESF's relationship between scientific research and the policy it advances. Particularly, to further a connection between theoretical philosophy/ethics and community relationships with an emphasis on the resolution of regional issues that arise from the impacts of science on human and non-human communities.
An ongoing series of original projects are brought about in collaboration with institutions and organizations throughout NYS for the benefit of NFI's primary audiences. Broad interest in this program affirms its importance and strengthens NFI's commitment to this work. Current and ongoing projects include: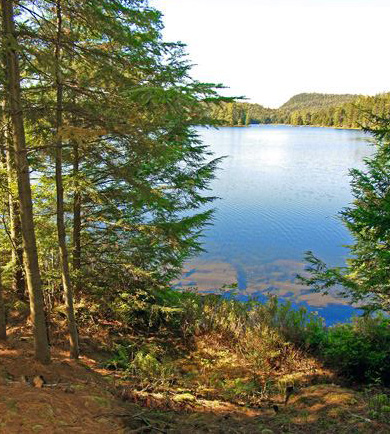 TOP
Plein Air Conversation: Art as Experience
Participants will "arrive at art by means of a detour" during a walk on the Huntington Wildlife Forest, lunch on a quiet shore and conversation. We will explore Art as Experience through the writing of philosopher and summer Adirondack visitor John Dewey. Dewey encourages us to turn away from art objects and to turn instead towards the everyday experiences that constitute and create art. He asks us to gather our impressions together in this immersion, to refine our sight and finally to return to art with a clarity about art as experience that only living fully in the world can provide. "Mountains and peaks do not float unsupported; they do not even just rest upon the earth. They are the earth, and one of its manifest operations."
Participants will gather at 10am at SUNY-ESF's Adirondack Interpretive Center, set out over land or on water and return by 3pm. While afield on the Huntington Wildlife Forest, we will stop for lunch and enjoy a guided seminar style conversation about the reading. A box lunch will be provided for each registrant along with a copy of John Dewey's Art as Experience which will be mailed to participants at the time of registration.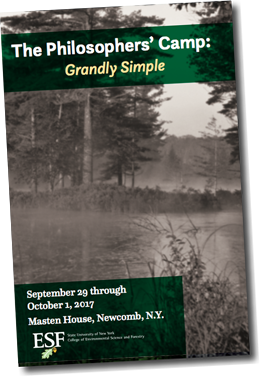 TOP
Philosophers' Camp Revival: Grandly Simple
2018 Camp (October 5-October 7 2018) - Join us for the fourth annual Philosophers' Camp!
An annual revitalization of the Philosopher's Camp, located in the landscape and tradition of the original gathering, draws on the expedition itself and its vibrant legacy. Our readings and conversations will be an opportunity to enter into the spirit of the original Philosophers' Camp by engaging in shared inquiry and discovery. In 1858 ten scholars left New England society for a sojourn in the Adirondacks. Seeking to reacquaint themselves with their wild surroundings they hunted, rowed, fished and camped. In a poem written to commemorate the excursion, Emerson names them freemen of the forest laws, and here they were also free of societal and professional boundaries. Thus liberated they fell naturally into a cross-disciplinary cadence that reflects the style of unity between self, other and world that has come to characterize the Camp and mark its intellectual significance.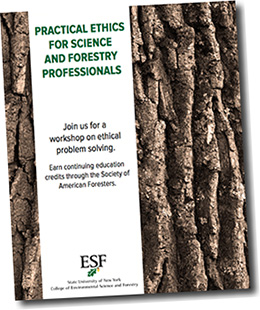 TOP
Practical Ethics for Science and Forestry Professionals
A series of workshops developed for Foresters and Land Management personnel in the New York State Department of Environmental Conservation and private industry professionals. This program is designed to introduce participants to a variety of approaches to ethical problem solving. This program includes a discussion about each approach, its central ideas and an overview of how the method works. Participants are asked to put these learned techniques to use to reach consensus on a series of case studies/project situations. The purpose of this exercise is to raise our awareness and deepen our understanding of the variety of ethical considerations that we already make when thinking about situations that are in tension, as a result of competing interests among individuals and communities. With greater awareness of how we intuitively navigate a fraught or conflicted situation, comes a heightened ability to reflect on and strengthen one's own thinking and decision making process. (Carries between 3.0 and 6.0 Cat 1-CF credits)
TOP
No Us Without Them: Preserving Difference through Solidarity
This seminar is one in a series of public programs designed for the Adirondack Diversity Advisory Council. Is there an Adirondack community? Does this kind of broad regional affiliation distract from or diminish the strength of community that adheres more to racial, social lines? Does this more pluralistic style of community come at the expense of a greater "we?" Can we preserve difference while we strive for unity? This seminar is dedicated to understanding the possibility of solidarity among strangers without estrangement. A day-long conversation will address the question of whether "we" can overcome the rigid limits of identity politics towards an embrace of otherness that avoids problematic us vs. them distinctions. In the wake of broad recognition that a universal striving for "equal rights" fails to take implicit cultural biases into account, an era of "identity politics" came to the fore. In this turn away from universality towards an emphasis on plurality and difference, individuals seeking solidarity relied on racial, social, sexual and political categories for belonging and recognition. Participants in this seminar discussion will enter into an of the moment struggle against the limits of the same categories that provided safe haven and strength in numbers.
TOP
Symposium of Interdisciplinary Scholarship in Land Use and Ethics
ESF's Northern Forest Institute invites submissions for symposium of interdisciplinary scholarship in land use and ethics. We welcome submissions related to the Symposium theme from perspectives including and not limited to Traditional Ecological Knowledge, spiritual ecology, eco-theology, deep ecology, Gaia theory, animism as well as eco-spiritual and theological resistance to industrial, social and political ruin of wild and natural ecosystems. We will accept 15 proposals that together are meant to generate a discussion around this variety of approaches to land use, the moral implications and usefulness of these approaches, as well as the ways that they influence the ongoing debate over how to achieve social and environmental justice. Submissions are encouraged from emerging or established writers and scholars, activists as well as anyone whose primary work lies outside the liberal arts and/or academia.
TOP
Philosophy for Children: The Age of Reason
This unique program in the field of Philosophy for Children takes students through Aristotle's Nicomachean Ethics beginning in grade three and culminating in a full unfolding of the Ethics in grade twelve. Original study plans written, delivered and then published will faithfully follow Aristotle's Ethics while also integrating revised versions of the Platonic dialogs where they help to illuminate some aspect of the primary material. Each lesson will build on the previous one, until students have had an opportunity to become involved in the whole arc of Aristotle's integrated writings on ethics and character through virtue.
Our most recent contribution to the aims of the Network is a poetic manuscript (in process) focused on a landscape inventory of the Huntington Wildlife Forest taken some 70 years ago. At a time when the value of field stations is debated in economic terms and the question remains open around what type of work belongs at a research station, these fragments provide elegant evidence of the natural crossover between science and art, research and personal accounts and the value of daily encounters with the natural world. Experiences and observations like those recorded here influence our understanding of the world around us and strengthen our resolve to preserve and protect it. The quality of our environmental awareness and our knowledge of self and world transcends disciplinary boundaries and is deepened through immediacy and the kind of multifaceted inquiry that defines the field station experience, as we work through wonder towards understanding.
Contact Us
For more information, contact:
Marianne Patinelli-Dubay
mpatinelli@esf.edu
(518) 582-4551 ext. 109
To register for a program, contact:
Daphne Taylor
newcomb@esf.edu
(518) 582-4551 ext. 101
E-news!
Sign up to receive news and information about special events in your inbox.