Women in Scientific and Environmental Professions Speaker Series

WiSE Professions
Dr. Amy Pruden
W. Thomas Rice Professor, Via Department of Civil & Environmental Engineering& Associate Dean for Interdisciplinary Graduate Education, Virginia Tech
Antibiotic Resistance as an Environmental Contaminant: Balancing Water Sustainability and Public Health Goals (Read summary here)
Wednesday, April 26, 4-5 pm, Alumni (Nifkin) Lounge, Marshall Hall
Sponsored by the ESF Women's Caucus.

Dr. Amy Pruden is a Professor in the Department of Civil and Environmental Engineering and the Associate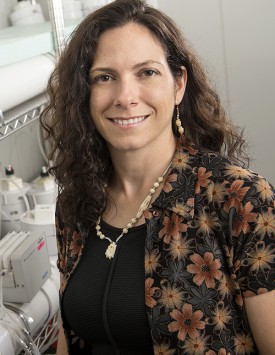 Dean and Director of Interdisciplinary Graduate Education in the Graduate School at Virginia Tech. Her research passion lies at the cross-section of applied environmental microbiology and some of our greatest environmental engineering challenges, including: water sustainability and its balance with concerns such as antimicrobial resistance, emerging contaminants, and opportunistic pathogens; environmental implications of nanotechnology; and bioremediation of hazardous pollutants. Her research group incorporates strategic application of various biomolecular tools to advance our understanding and improve functionality of environmental engineering systems.

Dr. Pruden serves as the Director of Strategic Planning for the Institute for Critical Technology and Applied Sciences Water Sustainability Thrust. She is an Associate Editor for the journal Biodegradation and serves on an advisory panel on Contaminants of Emerging Concern (CECs) in recycled water. Pruden teaches an undergraduate course in Introduction to Environmental Engineering. At the Graduate level, she teaches Environmental Engineering Microbiology and an IGEP Course on Interdisciplinary Research. She is a core faculty member in two interdisciplinary graduate education programs, Water for Health and Interfaces of Global Change. She has published more than 50 peer-reviewed manuscripts and book chapters on subjects pertaining to bioremediation, pathogens, and antibiotic resistance. She holds a BS in Biological Sciences, and PhD in Environmental Science from the University of Cincinnati.
Adaptive Peaks & WiSE Professions Speaker Series
Dr. Bridie McGreavy, Assistant Professor, Environmental Communication, University of Maine
How do we communicate for social-ecological resilience? Communication research to connect science with coastal and freshwater management and policy (Read summary here)
Thursday January 26, 2016, 4 pm, 5 Illick Hall
Sponsored by the Department of Environmental and Forest Biology and the ESF Women's Caucus.



Dr. McGreavy is an Assistant Professor of Environmental Communication in the Department of Communication and Journalism at the University of Maine. She studies communication within sustainability science teams and coastal and freshwater management contexts. She is a lead investigator on the New England Sustainability Consortium's Future of Dams Project, a large interdisciplinary network that seeks to link science with decision making about systems of dams.
McCreavy previously served as the conservation and education director at Lakes Environmental Association (LEA) from 2001-2010. She holds a PhD in in communication with a concentration in sustainability science from UMaine, and an M.S. in Environmental Studies-Conservation Biology from Antioch University New England in Keene, NH.


All presentations are free and open to the public. Complimentary parking is available! Please stop at the booth at the Irving Avenue entrance for a temporary permit. Directions Parking is available in Syracuse University's Irving Avenue Parking garage . The fee is $3.75 for the first hour, $2 for each additional.
---
Presented by SUNY College of Environmental Science and Forestry, The ESF Women's Caucus, with the assistance of other offices and programs at ESF and Syracuse University.
Calendar of Events