Women in Scientific and Environmental Professions Speaker Series
WiSE Professions Speaker Series
Gwen Kay, Professor and Graduate Program Director, History, and Director, Honors Program, SUNY Oswego
Not just stitchin' and stirrin'--an alternative view of women's science education
Wednesday, April 13, 2016, 4:00 PM, 408 Baker Lab
Sp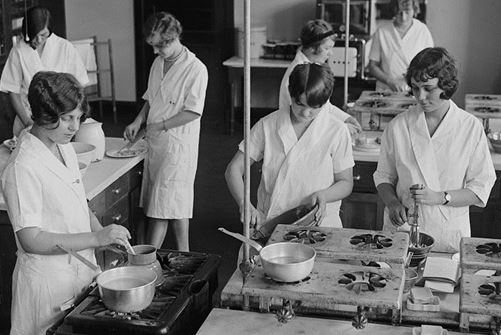 onsored by the ESF Women's Caucus and the Environmental Scholars Program
Dr. Gwen Kay's research specializations are the history of medicine and science, Progressive Era America, and women's history. She authored the 2005 American Nurses Association's book of the year (2005) Dying to be Beautiful: The Fight for Safe Cosmetics (Ohio State University Press) and edited Remaking Home Economics: Resourcefulness and Innovation in Changing Times with Sharon Y. Nichols. Dr. Kay directs Oswego's Honors Program and serves as Graduate Director for the History department. She teaches courses in American history and women's history and in women's studies. In addition, she currently serves as Vice President and Secretary of the SUNY Faculty Senate. Prior to joining Oswego's faculty, she held faculty positions at the University of Tennessee in Chattanooga, DePaul University, and a fellowship at Ohio State. She was awarded a Dean's Fellowship in the History of Home Economics, Cornell University (2008, 2006), studying Taking the Home out of Economics: From Home Economics to Human Ecology. She holds a BA from Bowdoin College, where she dual majored in biology and history, and a PhD from Yale University in the history of medicine and science.
Geoffrey O. Seltzer Lecture & Norma Slepecky Research Prize Ceremony
Dr. Marcia McNutt, Ocean Geophysist, and Editor, Science, and President-Elect of the National Academies of Science
Climate Intervention: Promise and Peril
Friday April 15, 2016, 1 pm, Life Sciences 001, Syracuse University
Sponsored by the Department of Earth Sciences and SU Women in Science and Engineering, Norma Slepecky Endowment and Goeffrey O. Seltzer Lectures, with assistance of the ESF Women's Caucus

Dr. Marcia McNutt is a geophysicist who became the 19th (and first female) editor-in-chief of Science in 2013. This summer, she will take the helm as President of the National Academies of Science. Before joining Science, she served as the director of the U.S. Geological Survey (USGS) from 2009 to 2013 as one of a group of accomplished scientists who populated top government posts as part of President Obama's "dream team." During her tenure, the USGS responded to a number of major disasters, including earthquakes in Haiti, Chile, and Japan, and the Deepwater Horizon oil spill. McNutt personally served on a team of government scientists and engineers at BP headquarters in Houston helping to contain the oil and cap the well. She led the Flow Rate Technical Group that provided estimates of the rate of oil discharge during the active phase of the oil spill. For her contributions, she was awarded the U.S. Coast Guard's Meritorious Service Medal.
Before joining the USGS, McNutt served as president and chief executive officer of the Monterey Bay Aquarium Research Institute (MBARI), in Moss Landing, California. McNutt began her faculty career at the Massachusetts Institute of Technology (MIT), where she became the Griswold Professor of Geophysics and served as director of the Joint Program in Oceanography & Applied Ocean Science & Engineering, offered by MIT and the Woods Hole Oceanographic Institution. Her own research area is the dynamics of the upper mantle and lithosphere on geologic time scales, work that has taken her to distant continents and oceans for field observations. She is a veteran of more than a dozen deep-sea expeditions, on more than half of which she served as chief scientist or co-chief scientist.
McNutt served as president of the American Geophysical Union (AGU) from 2000 to 2002. She was chair of the Board of Governors for Joint Oceanographic Institutions, helping to bring about its merger with the Consortium for Ocean Research and Education to become the Consortium for Ocean Leadership, for which she served as trustee. She is a fellow of AGU, the Geological Society of America, AAAS, and the International Association of Geodesy.
McNutt's honors and awards include membership in the National Academy of Sciences, the American Philosophical Society, and the American Academy of Arts and Sciences. She also holds honorary doctoral degrees from Colorado College, the University of Minnesota, Monmouth University, and the Colorado School of Mines. She was awarded the Macelwane Medal by AGU in 1988 for research accomplishments by a young scientist and the Maurice Ewing Medal in 2007 for her significant contributions to deep-sea exploration.
She has served on numerous evaluation and advisory boards for institutions such as the Monterey Bay Aquarium, Stanford University, Harvard University, Science magazine, and Schlumberger.
Previously this year:
WiSE Professions Speaker Series
Jan McDonald, Executive Director, Rochester Roots: Excellence in Community Sustainability Education
Bringing Science to Life: A collaborative Approach to Sustainability Education in Grades PreK-6th grade where Students, Teachers, Citizens, College Students, PhDs, and Businesses Learn Together.
Wednesday, March 9, 2016, 4:00 PM, Gateway A/B
Sponsored by the ESF Women's Caucus and the Graduate Student Association
Ms. McDonald will also be meeting with students, 10:30-11:30, in 110 Moon, and facilitating two workshops that afternoon, in Gateway C:
Growing edible eco-systems and community on campus, 12:45-2 pm, focusing on ESF/SU campus, student clubs (and advisers/partners).
Under a canopy of edible trees: reconnecting system diversity and food justice, 2:15pm-3:30pm, focusing on Syracuse, Onondaga county, along Onondaga creek; strengthening knowledge networks; and existing hot-spots of food systems activity and garden-based science education across the city.
Rochester Root, Inc. (ROOTS) is a 501(c)3 not-profit organization whose mission is: "To empower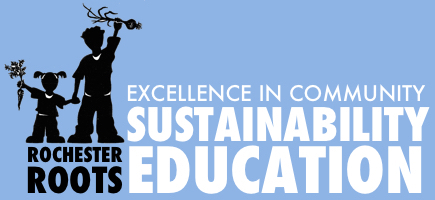 citizens and communities, starting with youth, to create agency for their own sustainable wellbeing."
Our vision is for "Vibrant communities of diverse people with high performance brains who collaborate to create sustainable wellbeing."

As Executive Director Jan has provided 22 years of service with Rochester Roots (ROOTS). As a volunteer Jan designed promotional materials (1991-1998), she served on the Board of Directors (1998-2004), and was hired as the Director in 2004. Jan developed the innovative Rochester Roots Urban Agriculture Program. Inspired by experiential teaching and learning methods, she integrated her interests in sustainable agriculture, art, healthy eating, and entrepreneurship into a project that serves the needs of urban dwellers living in poverty.

Since 1991, ROOTS has been committed to improving community health and well-being through prevention and reduction of hunger. We address this strategically at three levels: (1) community food system research, (2) garden-based and food preparation-based education and youth enrichment, and (3) empowering youth as change agents for their families and the community.

ROOTS develops the next generation of citizens who are participants in their community through their involvement in decision-making involving Sociological, Ecological and Technological Systems. ROOTS "Urban Sustainability Laboratory" (USL) implemented in July 2014 is focused on developing youth as leaders who work alongside businesses and university faculty and students to solve the "wicked problems" of sustainability facing them in the 21st century.
All presentations are free and open to the public. Parking is available in Syracuse University's Irving Avenue Parking garage (area map; close up). The fee is $3.75 for the first hour, $2 for each additional.
---
Presented by SUNY College of Environmental Science and Forestry, The ESF Women's Caucus, with the assistance of other offices and programs at ESF and Syracuse University.
Calendar of Events