Native Earth Environment Youth Camp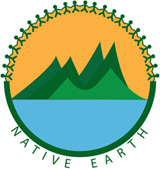 August 15-22 2015
Join us for a summer camp experience for indigenous youth focused on land skills and environmental stewardship, using both traditional ecological knowledge and environmental science.
---
Now in its fifth year, the Native Earth Environmental Youth Camp brings together Native American high school students from an array of indigenous nations of the northeast to explore the intersection between traditional ecological knowledge and environmental science. The program brings together indigenous environmental stewardship philosophy and the tools of western science, taught by Native elders, teachers and environmental professionals through wilderness field experience, traditional instruction, cultural and scientific activities. The SUNY-ESF Cranberry Lake Biological Station in the Adirondacks and the Thompson Island Youth and Elders Camp at Akwesasne provide the facilities for a ten-day experience of learning, teaching and sharing.
Native Earth is the product of an ongoing collaboration between the Center for Native Peoples and the Environment and the Haudenosaunee Environmental Task Force, with funding from the National Science Foundation and the SUNY College of Environmental Science and Forestry in Syracuse.
The program includes a wide range of educational activities from traditional cultural teachings by respected elders and teachers to hands-on aquatic ecology with SUNY-ESF scientists. Students are immersed in experiential learning of science and culture. Examples of program activities include study of the ecology of culturally significant plants, coupled with a workshop on traditional basket making, learning about wetland ecology while practicing traditional arts of cattail cordage. Students gain experience with scientific tools such as ecological inventory, saquatic sampling and soil analysis. Career exploration and college preparation are emphasized in seminar presentations, through interviews with tribal environmental professionals and a visit to the SUNY-ESF campus. The camp is organized around the integrative theme of the Haudenosaunee Thanksgiving Address, which is a cultural touchstone and also a model for identification and valuation of ecosystem services.
The camp is open to Native American youth in grades 9-11 throughout the Northeast and Great Lakes regions.
Application and Information
Contact:

Neil Patterson Jr.
315 470 6870
nvpatter@esf.edu