DEPARTMENT OF Environmental Biology


Biotechnology

Employing products or services of biological systems, organisms, cells and/or molecules to benefit humans, society, and our planet.
Apply Now
A degree in Biotechnology provides the knowledge and technical skills relevant to the study of products or services inherent to biological systems, organisms, cells, and/or molecules for betterment of humankind.
Biotechnology incorporates aspects of molecular biology, microbiology, cell biology, biochemistry, and genetic engineering, among other related disciplines to develop new products, methods, and organisms to benefit humans, society, and our planet. The curriculum builds on introductory courses in the sciences including biology, chemistry, calculus, and physics, creating a strong foundation for advanced upper-level courses. This degree program prepares students to use molecular and biochemical approaches to tackle environmental, natural resource, agricultural, or medical questions.
Science foundation enhanced with field research opportunities.
The Biotechnology curriculum requires a minimum of 126 total credits. In addition to foundational science courses, students in biotechnology explore more advanced laboratory skills through classes like Molecular Techniques and Environmental Microbiology. With 20 open elective credits students can tailor their degree program based on individual interest. An additional 12 credits of upper level directed electives provide added focus in areas such as pre-health, plant or microbial biotechnology, and bioprocess engineering. In addition to class work, a research or professional internship is also required as part of the program of study. Furthermore, many courses offered at Syracuse University or SUNY Upstate Medical University will fulfill both directed and open electives. Many biotechnology students chose to minor in areas such as Environmental biology, Chemistry, Biochemistry, and Microscopy.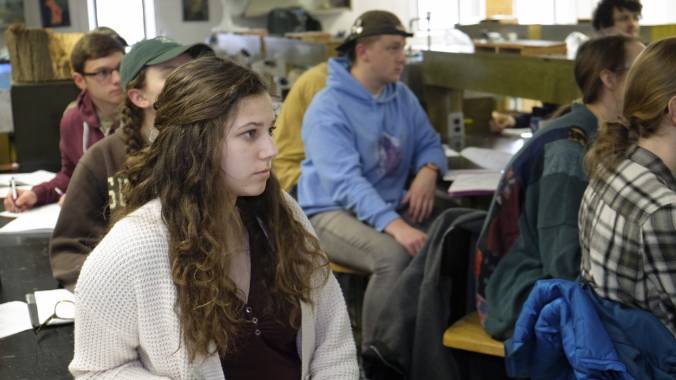 Our graduates gain hands-on experience with advanced laboratory techniques.
Our program prepares students to apply foundational and advanced laboratory skills and tools, employed by researchers around the world, in any setting.

Biotechnology students conduct cutting edge research with world class ESF faculty.
Research and/or a professional internship are a required component of the biotechnology curriculum where students gain real-world experiences applying concepts and tools learned in the classroom.

Where learning goes beyond the molecule.


Studying Biotechnology at ESF provides students with a strong foundation in a breadth of science specialties while also affording the ability for each student to tailor their coursework based on their own interests.
Biotechnology Degree Outcomes
Students who complete Biotechnology will be qualified to enter the growing biotechnology job market in fields ranging from immunology, virology and biomedical engineering to agriculture, seed technology, and plant physiology. Course work in the biotechnology major provides sufficient breadth students interested in continuing their studies in advanced graduate programs (master's & Ph.D.) or professional programs like veterinary and medical school.
Career Options
Biochemist
Biomedical Technician
Biopharma Sales Rep
Clinical Laboratory Technician
Environmental Scientist
Microbiologist