Department of Environmental Studies


Environmental Education and Interpretation

Discover and design impactful ways to connect people with science and natural and built environments so they can collaborate to care for our places.

Apply today
Environmental Education and Interpretation is a program designed to train future professionals to help inspire the public take actions on important issues in conservation, environmental and social justice, climate change, park management and access, and resource management.
ESF provides the only undergraduate major in Environmental Education and Interpretation in the eastern United States!
Our courses demonstrate the interconnectedness of environmental concerns.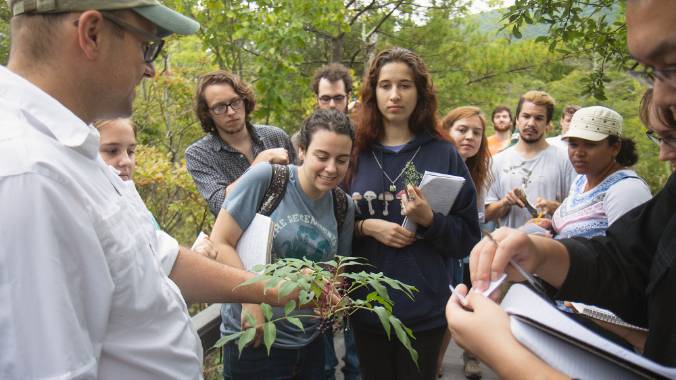 Students will take courses that reflect the interdisciplinary and holistic nature of Environmental Education & Interpretation professions, and become well-grounded in field biology, ecology, and varied environmental sciences. Additional learning is in the social sciences, environmental studies and humanities. This major inspires students to develop experiential education programs and materials that create meaningful learning for diverse audiences. These inclusive approaches foster environmental literacy, stewardship and community engagement in ways that create a more equitable, sustainable future.
Minors include: Environmental Policy and Communication, Recreation Resource and Protected Area Management, Environmental Writing and Rhetoric, Food Studies, Marine Science, and Renewable Energy.
Students gain real-world experiences and experiential STEM teaching and learning.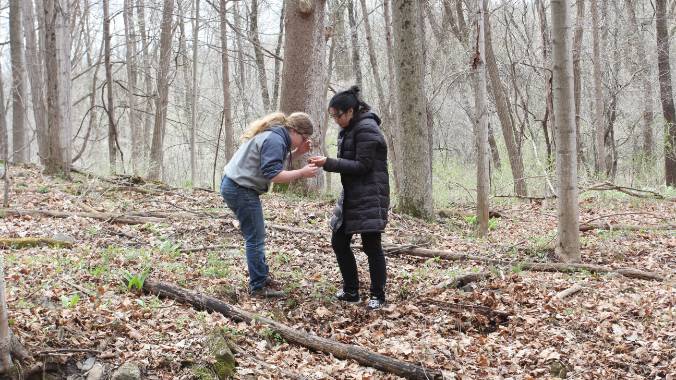 Through a suite of environmental education and interpretation courses, students receive professional credentials in such programs as Project WILD, Project Learning Tree, and more. Courses provide opportunities to earn certifications from the National Association of Interpretation and to attend professional conferences. Additional opportunities exist in "nonpersonal" interpretation, where we carry out community engagement projects as co-learners with community partners, and where we create social media posts, digital storytelling tools, exhibition and wayfinding signs, and other forms of Environmental Education & Interpretation media. Students gain valuable work experiences through a professional internship, where their recently acquired knowledge and skills can be applied. ESF also operates the Adirondack Interpretive Center, where our students can learn and work.
We prepare students for employment in nonformal and informal education and interpretation.
Our alumni easily land positions in a wide array of places. Graduates have found richly satisfying careers in nature centers, zoos, aquaria, botanic gardens, parks, urban youth centers, early childhood learning programs, wilderness areas, federal and state agencies, non-profit organizations focused on conservation and/or environmental justice, museums, community gardens, and travel/ecotourism industries. A growing number of job postings exist doing media design and writing with private consulting companies, crafting graphic design work within agencies or organizations, and providing visitor information specially for social media or even film.
Our Environmental Education & Interpretation major can also serve as a valuable springboard to enter graduate programs in K-12 science teaching, early childhood nature education, or other formal education professions.
Environmental Education and Interpretation Degree Outcomes
Environmental Education & Interpretation students have an endless number of summer and short-term employment options, as well as entry-level career positions.
Career Options
Park Ranger
Environmental Educator
Nature Interpreter
Zoo, Aquarium, or Museum Educator
STEM After-School Educator
Outreach Program Coordinator
Science Teacher
Career and Technical Education Teacher
Community Engagement Coordinator
Visitor Information Specialist
Interpretive Designer
Early Childhood Nature Educator