DEPARTMENT OF Environmental Resources Engineering


Environmental Resources Engineering

Preparing qualified engineers to operate with professional competence.
Apply Now
Our bachelor's program offers engineering science and design course work in the areas of environmental and related resources with a breadth and combination unparalleled in the United States. Our graduates use their engineering to manage natural resource systems to meet the needs and dreams of many constituents.
Engineering students with an interest in graduate study can plan their undergraduate studies along an individualized track which will prepare them for entry into graduate study either at ESF or at other top universities throughout the country.
Course Overview
The Environmental Resources Engineering program is ABET accredited as an environmental engineering program, with two years of core science and engineering courses followed by upper-level requirements that train students in ecological engineering, geospatial engineering, water resources engineering, and environmental resources engineering. The curriculum is developed to achieve our educational mission and objectives using hands-on, design-oriented courses starting in the freshman year, manage natural resource systems and engineer solutions to a wonderful array of environmental engineering problems sophomore year, and providing advanced engineering in the junior and senior year, with synthesis project training students in the professional practice of planning and design.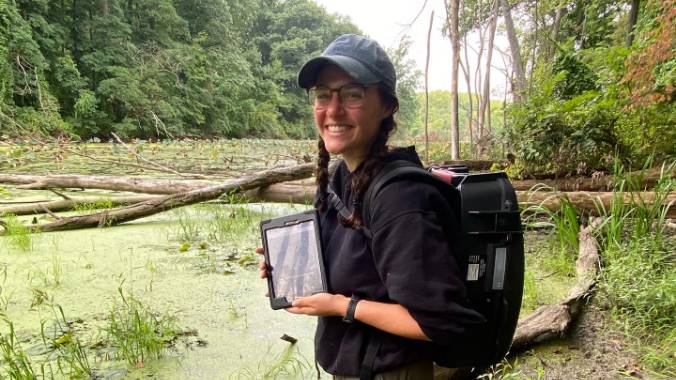 Specific Courses and Directed Electives
The curricular requirements contain required courses (e.g., ERE 132 Intro to ERE, APM 205 Calculus I) and directed electives (Earth Science, Biology or Ecology, General Education, Engineering, Technical). Course descriptions are available for ESF courses and Syracuse University courses in the appropriate institutional catalogs.
Engineering Electives
You need to take 3 Engineering Electives, which are defined by their focus on theory and application of scientific principles and quantitative skills to monitor, assess, or design in the environmental resources engineering profession. Some of these courses are only available to seniors and may require pre-requisites. To prepare, you take a design course your first year and take core engineering courses your sophomore and junior years.
Technical Electives
You need to take two Technical Electives, which are defined by their application of techniques, theory, and skills to advance competence in the professional practice. These courses build on the engineering curriculum. A list of approved courses is provided in the Upper Division Electives table in the ESF Catalog. Additional courses may be available by petition.
Earth Science/Biology/Ecology Electives
All ERE students are required to take an Earth Science elective. A list of approved courses is provided in the Lower Division Electives table in the ESF Catalog. Additional courses may be available by petition. Students who entered ESF in or after fall 2021 take a Biology elective. A list of approved courses is provided in the Lower Division Electives table in the ESF Catalog. Students who entered ESF prior to the Fall 2021 semester are required to take the narrower Ecology elective (EFB 320, EST 220, FOR 232, FOR 332, FOR 334, FOR 442, BIO 345 or FST 202), but can petition to take a course from the expanded biology list. Additional courses may be available by petition.
General Education Courses
All SUNY students are required to complete Gen Ed Requirements and have competency in critical thinking and information management. The ESF Gen Ed course list includes courses at ESF and at Syracuse University.
30 Gen Ed credits in 7 of 10 areas are required. The Basic Communication, Mathematics, Natural Science, and Humanities areas are satisfied through required courses in the ERE curriculum. The remaining nine-credits of Gen. Ed. courses are obtained by taking a three-credit course from at least 3 of the following areas: Social Sciences, American History, Western Civilization, Other World Civilizations, The Arts, and Foreign Language.
Explore Exciting Subfields
Among the many details that set our program apart from other Environmental Engineering programs are our unique areas of expertise in the sub-fields of Ecological Engineering and Geospatial Engineering, the depth of our expertise in Water Resources Engineering, and ESF's leadership in creating new environmental knowledge and sustainability practices on campus.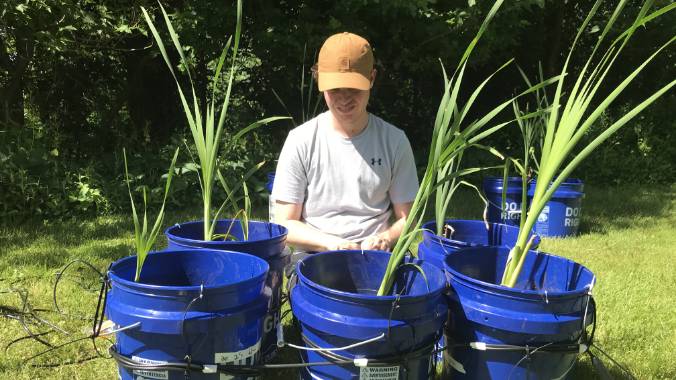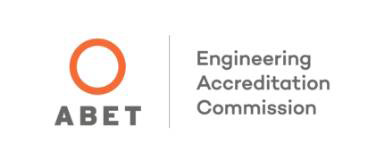 We are ABET EAC accredited
Our undergraduate program in Environmental Resources Engineering is accredited by the Engineering Accreditation Commission (EAC) of ABET, demonstrating we meet high-quality industry standards in preparing our graduates for success by providing a strong educational foundation.
Environmental Resources Engineering Degree Outcomes
Graduates with B.S. degrees in ERE can:
Engage in professional engineering practice specializing in natural and designed environments
Pursue graduate studies in environmental resources engineering, including ecological, geospatial and water resources engineering
Expand and adapt their knowledge and skills to address the technological, environmental and social challenges of a changing world
Explore ERE's Mission Statement, Educational Objectives, and Student Outcomes
| | | |
| --- | --- | --- |
| Academic Year | Program Enrollment (Fall) | B.S. Graduate |
| 2022-2023 | 124 | |
| 2021-2022 | 133 | 34 |
| 2020-2021 | 140 | 32 |
| 2019-2020 | 155 | 40 |
| 2018-2019 | 159 | 44 |