DEPARTMENT OF Environmental Studies


Environmental Studies

Preparing students with the knowledge and experience to work toward an ecologically sustainable and socially just world.
Apply Now
To address environmental issues, we must first understand the problems that cause them. In order to effectively do so, we need the right combination of social, cultural, and scientific knowledge, perspectives, and skills. The Bachelor of Science in Environmental Studies program helps you address the big issues of climate change and environmental degradation with an ethical mindset.
The B.S. in Environmental Studies program is designed to provide a comprehensive understanding of environmental affairs. That means learning about the scientific diagnosis of environmental issues and having enough knowledge to work with scientists, in addition to the social, cultural, and technological causes of those issues. It also means understanding the diversity of approaches needed to treat the problems. In the pursuit of these objectives, the Environmental Studies program brings together philosophical, theoretical and practical perspectives on a wide range of environmental concerns. In this way, the program prepares students with the knowledge, skills and experience to work for a more ecologically sustainable and socially just world.
Our courses demonstrate the interconnectedness of environmental concerns.
In the first two years of the program, students will develop a foundation in the humanities, social sciences, and natural sciences as they relate to environmental affairs. A key part of the first (fall) semester is student participation in Orientation Seminar for Environmental Studies and Introduction to Environmental Studies, the "gateway" courses for the major. During that time, students also fulfill SUNY general education requirements and take some open elective courses.
In the final two years of the program, students must select one of three Option Areas:
Environment, Communication, and Society
How communication and social systems influence environmental affairs and shape our perceptions of the non-human world. Addresses the subjects of rhetoric and discourse; news media; public participation; advocacy campaigns; collaboration; conflict resolution; risk communication; social processes; and representations of nature in literature and popular culture.
Environmental Policy, Planning, and Law
Concerned with how environmental policies, plans, and laws from the local to the global are created, implemented and contested. It emphasizes legislative, regulatory, and collaborative approaches to addressing environmental issues.
Natural Systems Applications
For students interested in the interface between biology and socio-economic issues. Provides an emphasis on biology with an eye to the interaction with societal issues ranging from education to habitat management.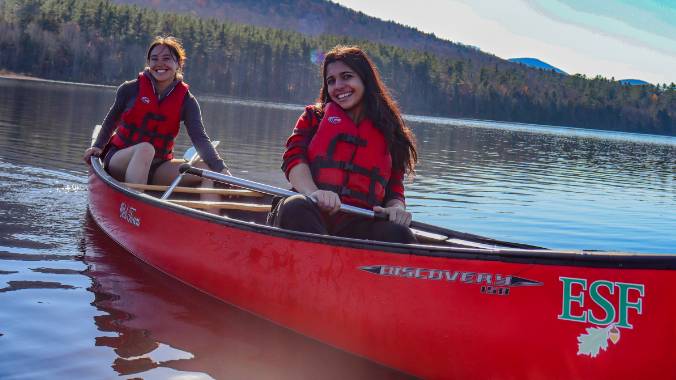 Students learn and practice critical skills.
Our coursework encourages students to become active learners with invaluable lifelong skills, including research, analysis, writing, and critical in relation to environmental affairs.

We teach ecological literacy.
Students will develop awareness, knowledge, and appreciation of the intrinsic values of ecological processes and communities

We respect diversity and complexity.
We recognize the diversity and complexity of ecological and social systems and the perspectives that inform social and institutional understanding of environmental affairs.

Our program seeks justice and equity for all.
We encourage seeking understanding and building value of social and ecological justice and equity in each context.

We build thoughtful professionals.
Students prepare to be reflective and sensitive, yet also effective and professional in whatever endeavors they choose to pursue.

Our students get involved.
Students formed the Environmental Studies Student Organization (ESSO) to support participation in environmental and academic program activities. In addition, two students participate as members of the Dept. of Environmental Studies' Undergraduate Studies Committee.
Environmental Studies Degree Outcomes
Career Options
Conservation Scientist
Environmental Lawyer
Hazardous Materials/Waste Specialist
Park Ranger
Planning Analyst
Urban Planner
Water Quality Scientist