Department of Landscape Architecture


Landscape Architecture

Observe, translate, and experiment with landscape processes to create multifunctional, sustainable design solutions
Apply today
The Bachelor of Landscape Architecture (BLA) is designed for students who seek to become a licensed professional serving the public in a variety of roles, such as site design and planning, urban design, community design, city planning, environmental planning and restoration, historic preservation planning, and a multitude of specialty services in both private firms and public agencies. This is a professional degree program that is accredited through the Landscape Architecture Accreditation Board (LAAB).
ESF's program is distinguished by areas of practice that emphasize collaborative design process; critical and creative inquiry; systems-thinking and propositional making; critical engagement; and other creative approaches to addressing community and environmental issues in the United States and overseas through our Off-Campus Program.
We incorporate the following themes in the BLA curriculum:

Multiple scales,
from communities of plants to
regions of cities and towns


Collaboration and engagement,

with communities


Hands-on learning
through fieldwork and making

Global classroom
through our Off-Campus Program
Course Overview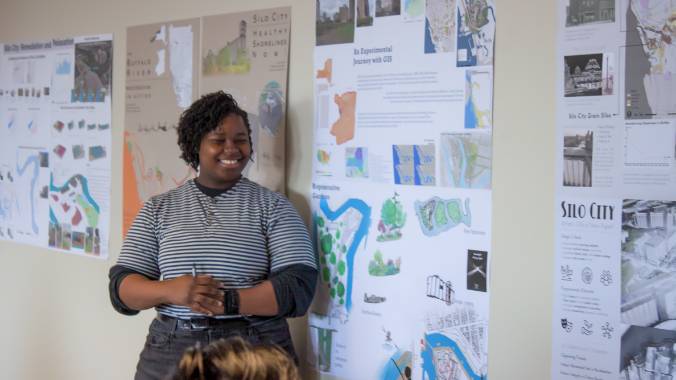 We give students the framework to discover their own unique interests within the field and guidance to help them achieve their goals. The BLA degree is granted at the end of five years of study and requires the successful completion of 140 credit hours. Students are accepted into the lower-division Landscape Architecture program as first-year students or as sophomore transfers.
Providing a state-of-the-art facility for our students.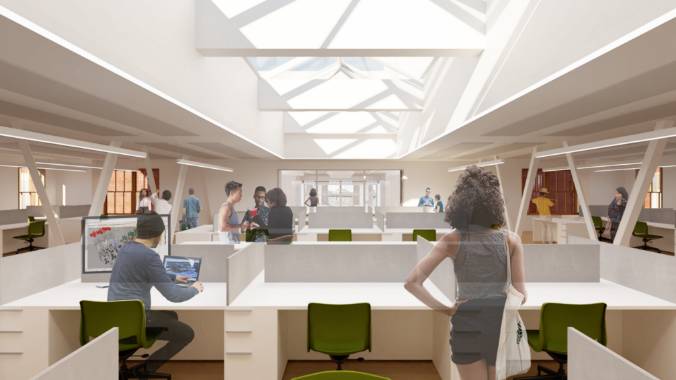 We're nearing completion of a top-to-bottom transformation of our second-oldest building, the gracious and historic Marshall Hall. This new home for the Department of Landscape Architecture will offer students state-of-the-art classrooms and studio space, as well as formal and informal places to gather, collaborate, and show off their work.
Participate in the off-campus experiential studio program.
The Off-Campus Program (OCP) is a hallmark of our Bachelor of Landscape Architecture program. During their Off-Campus semester, students are embedded in diverse landscape contexts (international and domestic) while pursuing independent design research projects with the guidance of faculty advisors. Since the first OCP group in 1970, students and faculty have engaged over two hundred different international and national locations. The OCP serves as a transformative experience. Anecdotally, statements from employers of DLA graduates indicate that the maturity, resilience, and confidence encouraged by the OCP distinguishes DLA students and enables them to assimilate much faster in practice cultures
The OCP is centered on the idea of an "experiential studio." Prior to the OCP semester, students identify a particular design-related study topic, then develop plans to leave the traditional university setting and travel to locations that are uniquely suited to the topic. Students see and experience exemplary works of landscape architecture in locations around the world. At the same time, students learn from experiencing unfamiliar places, cultures, and languages, and they gain an insight into the natural and cultural environment — a sense of place that is unattainable in the campus classroom. Finally, students learn lessons about themselves and American culture that are equally valuable as landscape architects and as citizens in the larger society.
Studies may take any of several forms — they may be relatively independent, focusing on a particular student's interests and aspirations (self-described study); they may be directed by a faculty member's interests or research (faculty-described study); or they may be more applied and directed by a local group or organization on site, similar to an internship arrangement (work study). Each OCP group is coordinated and advised by a participating faculty member, and assisted by an on-site consultant (usually a local alumna or alumnus, landscape architect, or university professor). Each student spends a full 15-week semester "Off Campus" pursuing the study and earning 15 credit hours. Typically, the OCP study is undertaken during the fall semester of the fifth year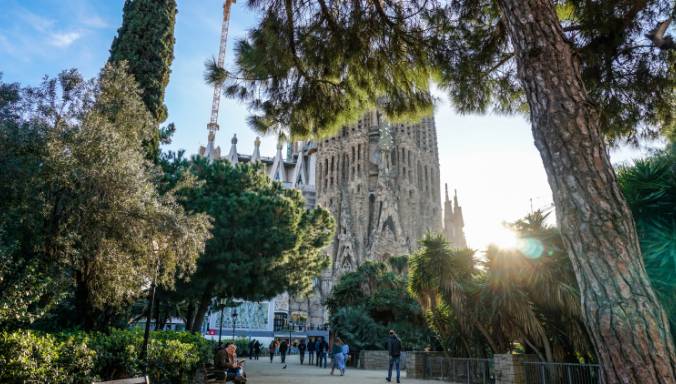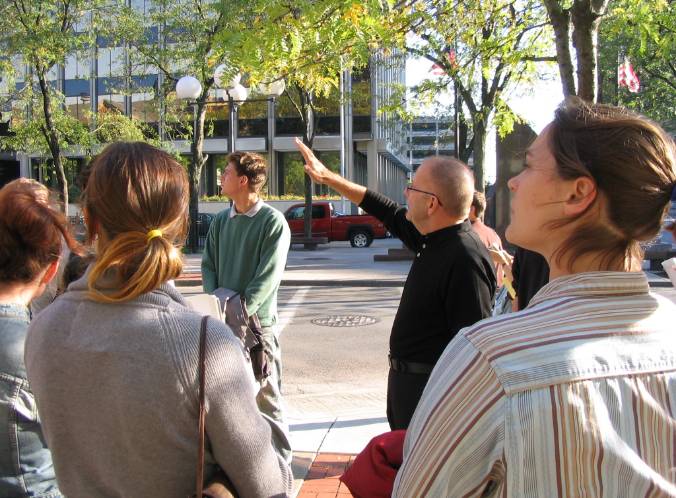 Become part of a licensed profession.
Landscape Architecture is a licensed profession in all 50 states. The major objective of the BLA program is to develop basic proficiency in design, engineering, and communication skills necessary for formal admission into the profession of landscape architecture. When the prerequisite period of work experience has been completed, a person holding a BLA degree may apply to take the examination leading to a license to practice landscape architecture.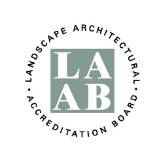 We meet LAAB accreditation.
Our degree is accredited by the Landscape Architectural Accreditation Board (LAAB), demonstrating we meet high-quality industry standards in preparing our graduates for success by providing a strong educational foundation.
Landscape Architecture Degree Outcomes
Our degree program provides pathways into professional careers in landscape architecture and related fields. Qualified undergraduate students may apply for the combined BLA/MS fast-track option.
A BLA prepares you for a variety of careers, including landscape architect, community planner, and environmental specialist, among others. Landscape architects are employed by private sector design firms; multidisciplinary architecture and engineering firms; public agencies at the local, state, county, regional, and federal levels; and nonprofit organizations. Over the course of a single person's career, he or she might move between traditional landscape architectural design, planning, and environmental consulting, working in many different types of organizations. The result is a highly adaptable career that can change over time as needed.
Job Growth up to 5%
Median Annual Salary $67,950 to $78,500
Career Options
Landscape Architect
Urban and Regional Planner
Environmental Specialist
Parks Planner