Senator Clinton Launches Urban Forestry Initiative
Press Release from the office of Senator Hillary Rodham Clinton

5/25
SENATOR CLINTON AND MAYOR DRISCOLL JOIN AMERICAN FORESTS, SUNY-ESF AND CORNELL UNIVERSITY TO ANNOUNCE A MAJOR URBAN FORESTRY INITIATIVE
500 donated trees to be planted across five New York Cities – Syracuse, Rochester, Buffalo, Binghamton and Poughkeepsie – as part of statewide greening effort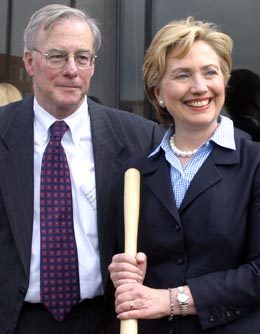 Syracuse, NY - Senator Hillary Rodham Clinton today joined Syracuse Mayor Matthew J. Driscoll, Deborah Gangloff, Executive Director of American Forests, Dr. Neil Murphy, President of SUNY-College of Environmental Science and Forestry (ESF) and Dr. Nina Bassuk, Director of Cornell's Urban Horticulture Institute, at a press conference and tree planting ceremony to launch the Urban Forestry Initiative.
At the launch of the Initiative, held in Syracuse's Clinton Square Park, the group released a major report on the state of tree canopy levels in five major upstate New York cities – Syracuse, Binghamton, Buffalo, Rochester and Poughkeepsie. The report "Greening New York's Cities: A Guide to How Trees Can Clean Our Water, Improve Our Air, and Save Our Money" includes data maps and analysis of city-by-city tree canopies, outlines of planting needs and targets, calculations of cost-savings potential for each city, and a "how to" guide to city greening, complete with a list of useful resources for all cities interested in urban forestry.
At the press conference, the group also announced a major tree planting campaign for Syracuse and all five cities. Trees New York, International Paper, HSBC, Starbucks, Niagara-Mohawk, a National Grid Company and Eddie Bauer announced that they had donated more than 500 trees to be planted across all five cities as part of a major statewide awareness and greening campaign. The group also announced that all five cities had already begun or were about to begin urban forestry campaigns including cost-sharing partnerships with local businesses and other innovative city greening projects.
At the press conference and tree planting ceremony, SUNY-ESF's Brownfields Studies Program representatives talked about their plans to install several urban forest groves on urban brownfields sites to demonstrate remediation successes in New York State. One larger demonstration is planned along Onondaga Creek in Syracuse, New York. The other large demonstration is at Hunt's Point along the Bronx River. Pilot demonstrations are also planned in Troy, Utica-Rome and in the Rochester-area.
Cornell Cooperative Extension's Community Forestry Program Work Team also announced that they were helping communities across New York State to develop and implement urban forest management plans. Cornell has already fostered successful cost-sharing partnerships with Niagara Mohawk.
"Ozone pollution is a serious health problem in New York, and trees are the perfect remedy" said Senator Clinton. "We need to do everything we can to help our cities become cleaner and greener and I believe this initiative is a fantastic start. This is the perfect example of the success we can create for our cities and our environment when we bring business, government, research and communities together. I am proud to have been a part of this effort – for our cities today and for generations to come."
According to the report released today, in a reflection of national trends, urban areas in New York State doubled in area between 1969 and 1994 and research suggests this rate of growth is rapidly accelerating. This has resulted in a smaller rather than greater urban forest. In 2001 urban areas occupied more than 3.5% of the national land base with an average tree cover of 27.1%. The report indicates that through the expansion of urban areas, urban forest systems have a heightened and more significant role in environmental quality and human health. Urban forest systems directly and indirectly benefit local and regional environmental quality. The report also indicates that the benefits are quite dramatic in several areas. In detail, the report also outlines the many ways urban trees affect New York State quality of life, including: reductions in air quality fines for municipalities, revitalization of down-town areas with proven increased sales receipts, declines in storm-water management expenditures, decreased asthma rates in children, among several other benefits.
Read a related Syracuse.com story here: Mom, really, I planted a tree with Sen. Clinton
Images from the Urban Forest Initiative ceremony (PDF)