ESF Finishes 12th in Solar Splash
Takes Top Honors for Hull Design

6/21
www.esf.edu/org/erfegclub/home.html
www.solarsplash.com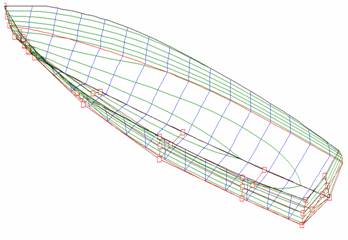 SYRACUSE, N.Y.—A team of SUNY College of Environmental Science and Forestry (ESF) students finished 12th among 17 teams in the 2004 Solar Splash competition.
Piloting a homemade craft they had named "Winter Solstice," the students earned 599.04 points out of a possible 1,000. They received top marks in the hull design element of the competition and fared well in the 300-meter sprint, placing fifth.
"They were happy with their performance, considering they werecompeting for the first time," said Dr. James M. Hassett, chair of ESF'sFaculty of Environmental Resources and Forest Engineering. "Theyunderstood where they were good and where they need to improve."
The competition was held this past weekend on Hoyt Lake in Delaware Park, Buffalo.
"Winter Solstice" is a 16-foot-long, single-passenger boat powered by energy harvested from the sun by photovoltaic panels. The fiberglass craft weighs 40 pounds. The battery powers a motor-driven propeller. Local businesses donated time and funds to the project.
The students constructed the boat as a senior project for a class in environmental and forest engineering, and presented their plans on campus in April. Actual work on the design and construction began months earlier.
The students' efforts to test their boat were hampered by Central NewYork's rainy spring. They were forced to cancel a test run on the Oneida and Oswego rivers because of unusually high water levels that closed sections of the state canal system.
Hassett said some of the other teams had members who were majoring in electrical engineering and computer sciences. Their boats were outfitted with sophisticated telemetry and communication devices that helped their final standing.
The winner of the competition was Cedarville University of Ohio with 861.16 points. The University of Arkansas came in second, and the Webb Institute of Glen Cove, N.Y., was third.
Hassett found one aspect of ESF's finish gratifying. "Our boat beatthe U.S. Naval Academy," he said.
Error processing SSI file