SUNY-ESF Among America's Best Colleges
U.S. News & World Report

8/20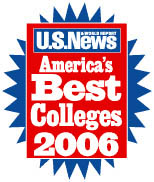 SYRACUSE, N.Y. —The SUNY College of Environmental Science and Forestry (ESF) was ranked among the nation's top universities in the 2005 edition of U.S. News and World Report's annual list of America's best colleges. This is the fourth year in a row the college has been favorably ranked. U.S. News ranked ESF 40th in the "Great Schools, Great Price" category for national universities, The percentage of ESF students receiving grants based on need—80 percent—was higher than at any other institution in the top 50.
"There were few universities in New York ranked ahead of us in that category, and Michigan State University came in at number 41," said Dr. Cornelius B. Murphy, Jr., ESF president. "This is a tremendous recognition of the value of an education at ESF."
The college was the only State University of New York institution listed in the top 50 in that category.
ESF was also listed 46th among the top 50 public national universities, and 98th among national universities that offer doctoral degrees. Those rankings describe national universities as institutions that offer a wide range of undergraduate majors as well as master's and doctoral degrees. Many of them strongly emphasize research.
"We're pleased with our rankings in those categories, as well," Murphy said.
ESF has an enrollment of 2,149 students, both graduate and undergraduate, who study fields related to science, engineering, policy, design and planning.
Syracuse.com story HERE.
Error processing SSI file