Testing the Waters
Source Sentinel aims to become security leader

9/28
Tuesday, September 28, 2004
By Tim Knauss
Staff Writer / Syracuse.com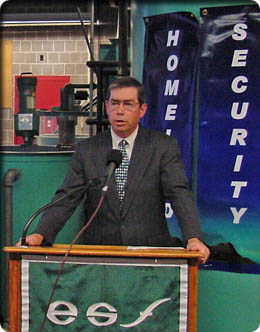 As several dozen onlookers craned to see Monday at a laboratory at SUNY College of Environmental Science and Forestry, Chris Campbell poured a small vial of gasoline, about a thimble's worth, into a 4,000-gallon pool of water.
Within minutes, elevated levels of toluene and benzene were detected by nearby sensors. Water samples were pumped from the pool into a cabinet full of computerized sensors made by Source Sentinel LLC, a start-up company in which the college is a partner.
The demonstration was Source Sentinel's way of announcing that, after two years of development and roughly $2 million in government grants, the company is ready to begin testing its system in the field and plans to begin manufacturing by fall 2005.
Five people work for Source Sentinel, a partnership of the college, Sensis Corp. and the O'Brien & Gere Cos.
But projections call for 400 or more employees within several years, said Terry Madden, president.
"We're really excited about its potential," he said.
Company officials say they aim to become the world's leading provider of security for water supplies.
The venture has received more than $1.6 million in federal grants secured by U.S. Rep. James Walsh, R-Onondaga, and $375,000 in state grants. More government aid is expected, officials said.
Source Sentinel's system combines sensors, some new and some standard in water systems, with computers that synthesize the information to yield Web-based reports and diagnoses.
Among the new sensors used by Source Sentinel are bio-chips devised at ESF that use lasers to detect biological toxins such as E. coli bacteria or microcystin, a toxin formed by blue-green algae.
At the demonstration, Campbell, the company's project leader, used a syringe to inject 250 microliters of E. coli bacteria into a line that fed water to the sensors. Ten minutes later, the computer blinked a red warning that E. coli was detected in elevated levels.
Water purveyors test for E. coli, but they do so by taking water samples to a lab for analysis, said Paul Whittam, director of water quality at the Erie County Water Authority. That takes up to 24 hours and provides a single snapshot of water quality.
Source Sentinel's system would provide continuous monitoring, with updates every 5 minutes.
Erie County Water Authority, which supplies 500,000 people in Western New York, is one of several Upstate water suppliers interested in testing Source Sentinel's equipment in the field, said Michael Brower, speaking for Source Sentinel. Field tests are expected to begin around the first of the year.
Commercial operations are still a year away, but Brower estimated that a large water supplier might spend $250,000 to $500,000 to install a system from Source Sentinel. After that, the system could cost up to $250,000 a year to operate, he said.
"The more we produce, the cheaper we manufacture, the lower the cost," he said.
© 2004 The Post-Standard.
Error processing SSI file