DEC Honors Chad Dawson
Adirondack Stewardship Award
10/15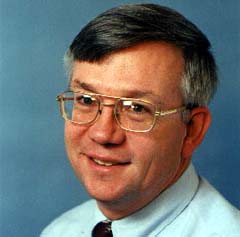 Lake George, New York -- New York State Department of Environmental Conservation (DEC) Commissioner Erin M. Crotty presented the 13th annual Adirondack Stewardship Award to Dr. Chad P. Dawson of SUNY-ESF in Syracuse.
Dawson was honored for his contribution to protecting wilderness values in the Adirondack Forest Preserve. He received the award October 13 at the 40th Anniversary National Wilderness Conference in Lake George.
"The history, culture, and natural beauty of the Adirondack Forest Preserve make it one of the most important regions in the country," Crotty said. "The department is fortunate to have partners like Chad Dawson to assist us in planning for and managing these valuable lands. Dr. Dawson is recognized nationally for his contributions to protecting wilderness values, we are grateful for his involvement in state efforts and are pleased to present him with this prestigious award."
Dawson received a plaque commemorating the award which cited "his stature in the national wilderness management community and his substantial contributions to our Adirondack Forest Preserve planning and land stewardship efforts."
Dawson chairs ESF Faculty of Forest and Natural Resources Management where he teaches courses in wilderness and recreation management. He is managing editor of the International Journal of Wilderness and co-author of Wilderness Management: Stewardship and Protection of Resources and Values. He is past chair and long-standing steering committee member of the Northeast Recreation Research Symposium.
Dawson has had a great direct and indirect influence on the protection and management of the Adirondack Forest Preserve. He has authored numerous research papers on Wilderness and Forest Preserve subjects, on a regional, national and international level, including papers presented at the 5th and 6th World Wilderness Congresses. He has mentored more than a half-dozen graduate recreation management students doing research on Adirondack Forest Preserve issues. His numerous technical reports and studies in support of management of the State's natural resources have assisted DEC in assessing the resources and planning for the management of the Forest Preserve.
The Adirondack Stewardship Award is presented by DEC to groups or individuals who demonstrate outstanding stewardship of the natural resources of the Adirondacks.
Previous Adirondack Stewardship Award recipients include ESF's Ranger School in 2002, and Professor Emeritus Edwin Ketchledge of Clinton County in 1995.
For Release: Wednesday, October 13, 2004 Contact: Michael Fraser, NYSDEC, (518) 402-8000